Blinds Chalet offers Cityscape shades that bring landmarks to anyone's window
Sep 28 2011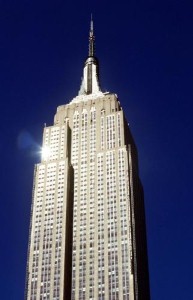 The Empire State Building in New York City is one of the images in the Cityscapes roller shades collection.
Regardless of where home dwellers live, they can look out their windows and see the Empire State Building or the Eiffel Tower.
That bit of geographic magic comes courtesy of Blinds Chalet's special line of Cityscape
roller shades
. In addition to the images of New York City and Paris landmark buildings, consumers can order a shade featuring the Golden Gate Bridge, the Brooklyn Bridge and a neon sign scene called "Chicago lights."
For a limited time, the Cityscape shades are available with cordless lifts at a reduced price. Blinds Chalet also has ongoing sales and discount coupons available to keep its selections affordable for any budget.
The cordless lift is just one of the options that consumers can choose to upgrade their Cityscape window covering. Blinds Chalet also offers different weave weights, blackout fabric and motorization through either remote controls or wall switches. Another upgrade, cassette headrails, hide the roll at the top of the shades.
The images of the Cityscape landmarks are centered on the roller shade so the shape of the window treatment may influence the look. For instance, Eiffel Tower image is not recommended for horizontal format windows.
Bookmark/Share this page: