Our Quick Ship
Wood Shutters
are available only in outside mount. This means each wooden shutter mounts to the surface of the wall outside the window frame.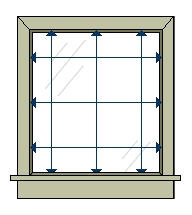 Simply measure the width and length in three different places as shown in the inside mount picture. i.e. inside drywall to drywall or frame to frame.
It is only necessary to give the smallest width and largest length to an 1/8 of an inch.
Enter exactly what your window frame measures.
Take NO deductions.
We will add to the size provided for proper coverage to the window size you specify. Because each shutter comes complete with a frame and is mounted outside the window frame, we use standard size for a wide range of windows.
Arch Top Shutters
For windows with an arched top, measure the height from the bottom of the window frame to the highest point on the arch. Quick Ship Wood Shutters can only be mounted to arched windows with perfect arches. To determine if your window is a perfect arch, measure the arch height from where the arch begins to the highest point in the arch. This height should be one half the width of the window frame.
Attention: Because
Quick Ship Shutters
are outside mount, they cannot be mounted to windows with molding or trim around the window frame. A flat surface is need to mount them.