When hanging a mini blind on a metal door there are a few different options such as magnetic mini blinds. Magnetic blinds for steel doors attach to the metal door with the use of magnetic brackets. This is a good option for a temporary window blind. The best method and most permanent is to attach the blind using metal screws. Magnetic mini blinds can move over time, while screws will keep the blinds fixed in place.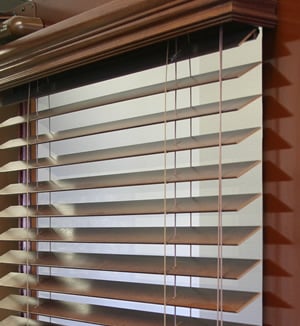 Virtually any window blind can be attached to a steel door. Whether you want to mount 1 inch aluminum mini blinds to 2 inch
real wood blinds
. When ordering the magnetic mini blinds for steel doors, order them as an outside mount blind. For wood and faux wood blinds, they will come with a matching valance to cover the brackets and sides of the headrail. On outside mount blinds they will come the size you order. Make sure you order them wider than your window on the steel door. View our complete instructions on
measuring for french door blinds
.
Mark where you want the mounting brackets to be placed on the metal door using a pencil and a tape measure. You may want to hold the mini blinds in place to ensure proper coverage and they will not interfere with the door operation.
Using self-tapping screws and a hand drill, attach the mounting brackets to the steel door where you marked. Self-tapping screws are designed to drill their own hole. You may need to drill a slightly smaller pilot hole using a drill bit but most self-tapping screws do not need a pilot hole. self-tapping screws do not come standard with our mini blinds. You can buy them at any hardware store. Just take your brackets with you to make sure you get the proper size.
Place the mini blinds into the mounting brackets and attach the valance to the
mini blinds
.
Mounting mini blinds on metal or steel doors is not too difficult. We highly recommend using self-tapping metal screws to mount blinds over magnetic blinds. Magnetic mini blinds are easy to mount but not a permanent solution to door mount blinds.
Related Articles
Wood Blinds vs. Magnetic Mini Blinds
Magnetic Mini Blinds have become a popular solution for people with steel doors. The magnetic brackets hold the mounting in place, thus eliminating the need to try to drill screws into the door. Sounds like a great solution, except magnetic brackets aren't completely stable. They can fall down or tilt, as they get older. Magnetic mini blinds were intended to be short-term solution for window coverings. ...
more