Wood blinds are a popular choice for home offices or studies if the area has been decorated with wood bookcases, desks, or wood accents on filing cabinets. Faux wood blinds or real wood blinds both can provide a rich elegant look.
There are may options on the market for both
wood blinds
or
faux wood blinds
. Faux wood blinds have come a long way and are the practical economical alternative to wood blinds. Made from pvc and a composite of man-made materials that is combined with wood particles, these faux wood blinds look just like real wood blinds and have the additional benefit of being washable and unaffected by moisture. Real wood blinds are made from the finest real basswood and are all finished and tailored to perfection using the best in components and craftsmanship.
Light Control
Since most home offices now have a personal computer, light control is another factor to consider. Choose a window covering that will block the light and eliminate glair. Wood blinds or any blackout shades are excellent
home office blinds
. Avoid a light filtering shade that may allow unwanted light.
Save Energy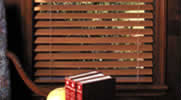 Office blinds
can help reduce energy costs and save on those electric bills. During winter months, leaving office blinds open can let the heat from the sun in while closing them during the summer can help insulate your windows.
When choosing the right
office blinds
, select a window blind that fits your style and budget. Choose a window covering that matches the decor of the room but also works with your particular needs.
....................................
Blinds Chalet has more than 25 years of experience selling and installing wood blinds. Attractive, high quality, and durable window blinds that fit any energy saving plan, decorating style, and budget. For information on what types of window blinds, blind accessories, and any other window covering needs, visit www.blindschalet.com.