How to install Roman Shades:

Roman Shades
may be mounted inside or outside the window frame. When ordering your
window blind
of choice, make sure you specific the correct option that best fits your application. You will need at least 1 inch of window frame depth to mount roman shades although at least 3 inches will be needed for a flush mount. Flush mount means that the entire roman shade will fit within the window frame and no part of the shade extends out of the window frame.
Getting Started
Each roman shade will include 2 mounting brackets and 4 screws. The screws included will work for most cases when installing the roman shades.
Just a few basic tools are recommended: steel measuring tape, carpenter's level. Power drill and bits, and a flat-blade and/or Phillips screwdriver.
Step 1. Mount Brackets
Inside Mount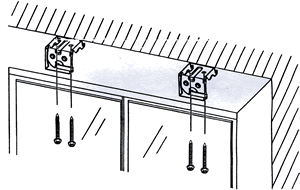 When mounting fabric roman shades within the window frame, mount each bracket up into the top of the window frame(see figure to the right).
Make sure the brackets are mounted in a location as not to interfere with the mechanisms within the roman shades headrail. Mount the roman shade brackets evenly spaced from the ends of the shade and at the same distance from the front of the window frame.
Outside Mount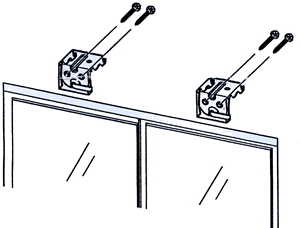 When mounting an outside mount roman shade, the mounting brackets will be attached to the wall above the window(see figure to the right)
Level mounting is critical to proper operation of the roman shades. Use a level and a pencil to mark the location of where the brackets should be mounted. Mount the brackets towards the ends of the roman shade headrail but in a location that the brackets will not be in the way of the mechanisms within the headrail of the roman shades.
Mount the brackets as show with 2 screws per bracket.
Step 2. Attach Roman Shades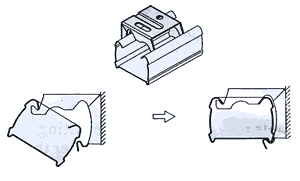 Once the brackets have been mounted to the wall or window frame attach the roman shade(see figure). Insert the front edge of the shade headrail onto the mounting brackets. Press the backe edge of the shades up into the mounting brackets and snap them into place.
Roman Blinds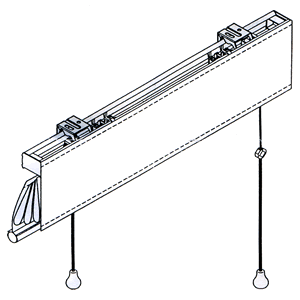 Fabric Shades, Roman Shades and Mounting Brackets.
....................................
Blinds Chalet has more than 25 years of experience selling and installing roman shades and other window coverings. Attractive, high quality window blinds that fit any energy saving plan, decorating style, and budget. For information on what types of window blinds, blind accessories, and any other window covering needs, visit www.blindschalet.com.