Occasionally over time cords get damaged or wear out with any
window covering
. Follow these easy steps to replace the damaged cord with a new one. Here are some basic steps on how to replace the cord on a damaged continuous cord loop.
Continuous cord loop or rollease is designed to make it easier to lift or raise larger
window shades
. The larger shades are the heavier they become and the more difficult they are to raise.
Step 1:
Remove the old cord

| | | |
| --- | --- | --- |
| Hold the clutch by its base. With your other hand push a small loop of cord up to the front from behind the guard. | With the hand that is not holding the base, bend the cord sharply against the first pulley tooth. Push or pull the cord hard enough to move the pulley. | Use the cord as a handle all the way around until the cord is completely out of the pulley. |
Step 2:
Select an appropriate cord length for the shade.
A simple way to do this is to cut the old cord so you can lay it out. Measure the entire length of the cord.
Step 3:
Insert thew new cord into the lift mechanism.

| | | |
| --- | --- | --- |
| Push a loop up from behind the guard. Firmly push the cord against a tooth edge, until the pulley moves, trapping the cord in the pulley. | Use a pencil eraser to rotate the pulley clockwise, one tooth at a time, all the way around to the other side. | A loop will remain in front of the guard. Pull the cord from behind the guard until the entire loop falls behind the guard. |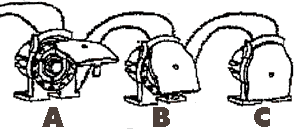 Clutch Cover(optional):
A:
Insert the tab of the cover into the cord-guard on the clutch.
B:
Rotate the cover up.
C:
Lock the cover to the clutch. You should hear it click or snap in.