At this time we do not offer any draperies or drapery hardware. However, we have many fabrics used in draperies in our
Roman Shades
.
Determine Your Hardware Width
Measuring for drapery rods is simple. Follows these simple steps:
Measure the width of the window you are going to cover.
Rod width does not include the width of the finials on each end. Finials add 2" to 11" in width on each end, depending on the finial style. Determine the size of the finial style you selected. This information will be on each product description.
Determine proper overlap. We recommend about 5 inches per side or a total of 10 inches.
Add the widths of the window, overlap and finial width as shown below to determine the overall width
For example:
if your window is 50" wide, you would normally order
a 60" length curtain rod and the overall finished width would
be 64" to 84" depending upon the finial style.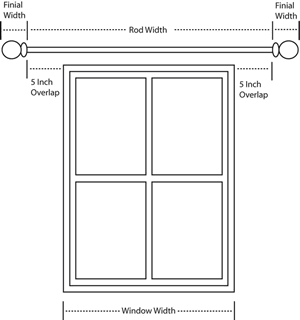 Measuring Tips:
Keep in mind when measuring that the overall width will not interfere with any objects in the room which you are mounting the drapery hardware.
Always use a steel tape measure. All dimensions
should be taken to the nearest 1/4 inch.
Double check to make sure that you haven't
transposed width and height measurements.
Measure every window. Windows that look identical
often are not.
If you have any questions, please contact Customer Service for more information.