The
Embassy 2" Wood Blinds
come with adjustable hidden valance clips. These valance clips are inserted into the back groove of the window blinds valance. They are also able to level the valance on the window blinds. Follow these simple steps to attach the valance clips to the valance of your window blinds.
Step 1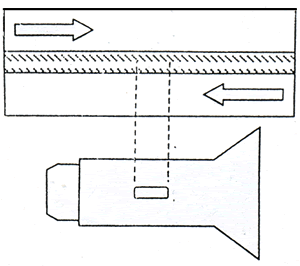 Place the 2 part valance clip into the groove on the back of the valance as shown. Slide the clip horizontally right or left to the desired position.
Step 2

Stop, turn clip vertically so the triangular side of the valance is to the top of the valance. The valance clips will lock into position.
Step 3

Pres the valance clip up or down to ensure the valance is level when mounted to the window blinds.
Step 4
Attach the valance to the window blinds by sliding the clips onto the headrail of the blinds.
....................................
Blinds Chalet has more than 25 years of experience selling and installing Embassy 2' wood blinds. Attractive, high quality window blinds that fit any energy saving plan, decorating style, and budget. For information on what types of window blinds, blind accessories, and any other window covering needs, visit www.blindschalet.com.