How to Choose Blackout Blinds
May 14 2010
Blackout blinds are designed to block the light from entering the room. Whether you need a dark room for sleeping or just to watch TV, there are multiple options for blackout window blinds and shades. Here are a few options for the best
blackout blinds
.
Cellular Blackout Blinds
Cellular shades are one of the best options for darkening a room. They come in various pleat sizes and a wide variety of colors to choose from. Most
blackout cell shades
come with a mylar liner inside the honeycomb cells that blocks light from penetrating the shades. Upgrade to our ComforTrack cell shades for the most light control available with a window blind or shade. The ComforTrack shades offer sidetracks that blocks more light that would escape between the sides of the shade and the window frame. Honeycomb cell shades are also excellent insulators so they reduce energy consumption and muffle sound as well.
Blackout Roman Shades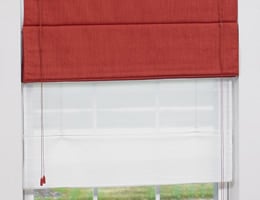 Roman shades also offer a wide selection of fabric colors as cell shades with a nicer look. Roman shades come in both flat panel or hobbled fold styles. The fabric on roman shades typically has panels with a horizontal seam about every six inches. The fabric in each panel can be tight when lowered or additional fabric can be added to each panel for a fuller look. Look for our
blackout roman shades
with a day night liner. Our day & night roman shades offer two shades in one. Lower the roman shade for light control or raise it and leave the sheer liner lowered for privacy but allowing light to filter into the room.
Blackout Bamboo Shades
Bamboo shades are by nature not a blackout product. Because of the woven wood material, light penetrates through each bamboo slat. Adding a blackout liner however, creates
blackout bamboo shades
. Blackout liners are available in either an attached liner or a separate movable liner.
Blackout Roller Shades
Roller shades offer a traditional look to your windows. Fabrics for roller shades can range from sheer to blackout. Choosing the right fabric can block unwanted the light. One downside to roller shades is on inside mount roller shades there is a larger gap on the control side than other blackout shades.
Whatever your style or budget there are several options for blackout shades. Choose a window blind that meets your taste and consider the options when ordering blackout window blinds.
Related Products
Post a Comment