Window Blinds & Shades Offer Color to Match Home Decor
Feb 22 2010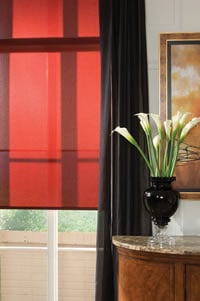 The most common selection for window blinds and shades are neutral colors such as
white window blinds
or
tan window blinds
. Most wood and faux wood blinds are only offered in white tones or stains. However, there are other options are available if you are looking to add a little color to your decorating.
Window treatments are perfect for adding color and can accent an decor. Adding window blinds with color to a room with neutral walls can dress up any room. You can echo the furniture, flooring, ceilings or doors with the color of the blinds. Avoid dividing up the room with blocks of color but bring in color to accent the decor.
If color is what you want, fabric window treatments offer a wide selection of color choices. Because fabrics can be made in any color imaginable, the possibilities are endless when it comes to colors. Window shades can even be printed on with borders, patterns and logos. Not only are there a multitude of colors but different styles of fabric shades as well. Fabric is used to make honeycomb cellular shades, roman shades, roller shades,
draperies
and more.
Another possible option for adding color to your windows is mini blinds. Because aluminum blinds are made from metal and are painted, they offer a broad selection of colors and finishes. Choose from glossy paints, jeweled colors to flat tones with little shine. Look for the popular
blue mini blinds
,
black mini blinds
, and many more.
Related Products
Post a Comment