Tips For Choosing the Best Window Treatment Color For Your Home
Sep 20 2012
Once you have selected the best type of window treatment for your home, the next step is to choose the color or fabric of your new blinds or shades. With thousands of colors, fabrics and materials on the market today, how do you choose which option is the best one for your space? Read on for some tips for selecting the best colors for your window treatments.
Wood Blinds
If you plan to install wood blinds, take a look at the window casing around the windows. One option is to select a wood tone to closely match the trim around the windows. This makes the wood blinds almost become a part of the architecture in the room. Since wood blinds come in both stained and painted finishes, there is a good chance you will find a match.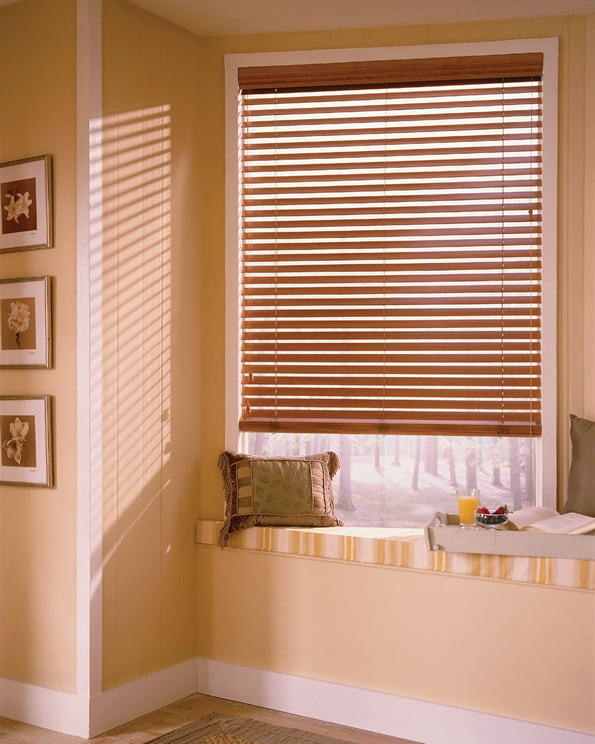 Another option is to choose a contrasting wood color for more dimension at the window. For example, if you have dark cherry window trim, order wood blinds in clear maple for contrast. Perhaps you have an accent wood finish in your room - on a wood floor or your furniture - that same color would work as an accent at the window, as well.
Aluminum or Vinyl Blinds
Aluminum blinds come in hundreds of color choices, from pale neutrals to deep hues. As with the wood blinds, one option is to choose a blind color that closely resembles the trim around the windows.
If you would rather contrast the trim, look to the wall color in the room for inspiration. By coordinating the blinds with the wall color, the blinds will stand out much less, instead blending into the background.
A third option utilizes the many metallic aluminum blinds on the market today. Look to the light fixtures and door hardware in the room, and choose a metallic blind color that closely matches the metal finish already in the space. These options will give your windows a rich, lustrous look.
Soft Shades
If you have selected a softer treatment, such as a roller shade, Roman shade, cellular or pleated shade, you will find hundreds of fabrics at your disposal. The color and pattern you select will depend upon whether you want your shades to become a focal point in the room, or whether you'd rather they blend away.
If accent is your goal, choose a color based on other fabrics in the room. Perhaps you choose a color to match a decorative pillow on your sofa or the flower in your wallpaper. A patterned fabric can be used to tie the colors of the room together; select one that includes several hues from your space.
If you prefer to downplay your windows, choose a simple fabric in a color close to that of your walls. This will allow the windows to visually become a part of the wall.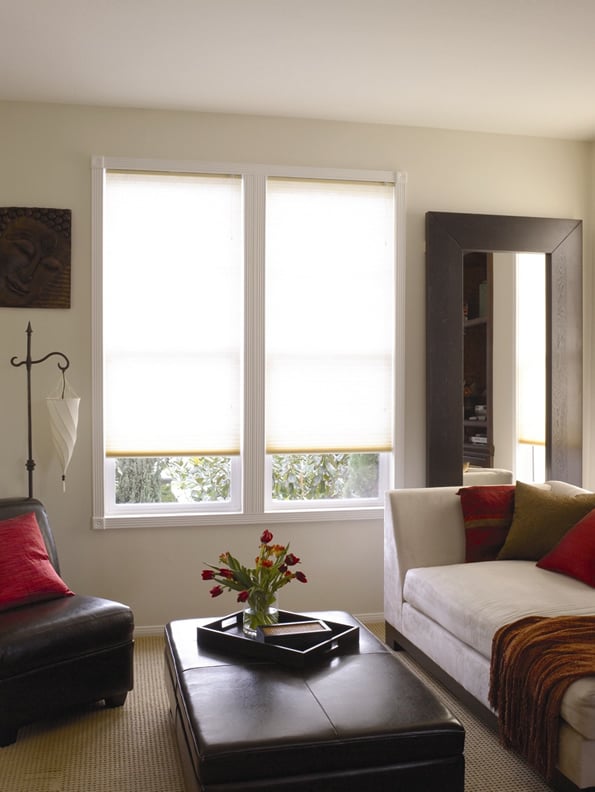 General Tips
When choosing a window treatment color, consider how often you plan to replace your treatments. If you change them every few years, feel free to choose a trendy color or pattern. If, however, you plan to have your treatments for ten years or more, you may wish to use a more neutral tone on your windows. This way, when your tastes and decor changes, you aren't stuck with an outdated window treatment. (Remember mauve, anyone?)
If you want your window treatments to really blend into your space, select window treatments that will be mounted outside the window frame to cover the trim and choose a color similar to your wall color. Covering the trim will create a smooth, uniform surface from wall to window.
If you plan to use drapery panels, a valance or a cornice in addition to your blinds or shades, choose a simpler color and pattern for your blind or shade. The custom drapery should be focal point of the window, with the blind or shade only enhancing the look. Choose a color carefully to enhance the overall look without over-doing it.
Teri Larsen, ASID, is a professional interior designer based in Wisconsin. Teri is also the founder of
ALittleDesignHelp.com
, a free resource for interior design information and deals. She offers both in-person and online interior design services. For more information about Teri and her services, please visit her websites:
http://www.tlarsendesign.com
and
http://alittledesignhelp.com
.
Want to participate in the Blinds Chalet community?
View details
Related Products
Post a Comment