Custom Window Blinds For Boats and Yachts
Apr 6 2015
Do you own a boat or a yacht? If your answer is yes, then you probably have the same problem anyone with a boat or yacht is having, that is: keeping the heat out during the summer and keeping the heat in during the winter. This problem is worse on boats with large windows which have the tendency to suck air right out of the boat – leaving the interior of the boat or yacht too warm and uncomfortable. Because of this, boat owners are forced to run the air conditioning units while at dock or even at sea. As doing so is very expensive, many owners of boats or yachts are on the search for efficient yet affordable solution to this problem.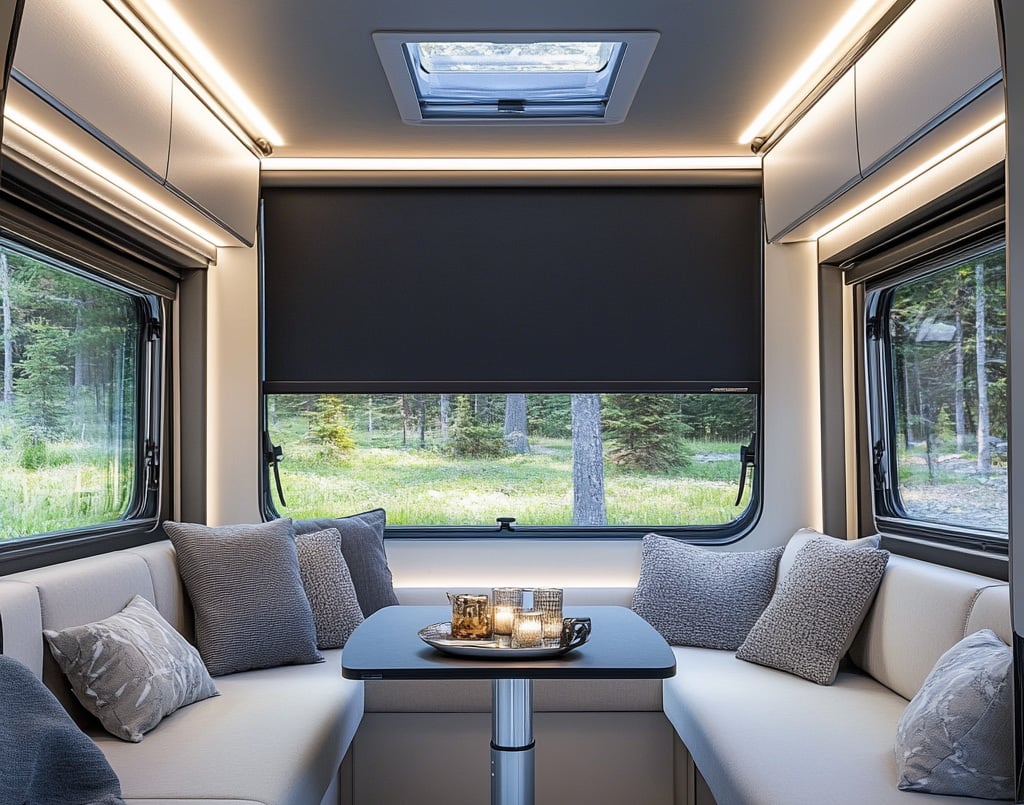 Fortunately, Blinds Chalet came up with a cost-effective solution that lets you control the amount of heat that circulates inside your boat or yacht. They offer
custom window blinds that maintain good air circulation inside your boat.
Read on to know the features of these window blinds for boats and yachts.
Features of Custom Window Blinds For Boats and Yachts
The RV window blinds of Blinds Chalet can also be used for boats and yachts. So whatever advantage these blinds can offer to RVs, boats and yachts can similarly benefit as well. Here are some top features you'll fall in love with the custom window blinds from Blinds Chalet:
Light Filtering Mechanism
Blinds Chalet's window blinds for boats and yachts are made with light filtering fabric that are designed to filter light from the outside without totally darkening the boat's interior. With these window blinds, just the right amount of light enters the boat or yacht. Hence, your boat won't be fully blackened while the blinds are closed. Furthermore, these blinds have the capacity to compress tightly giving you an unobstructed view through your windows.


Dual Purpose Shades
Just like Blinds Chalet's light filtering window blinds, the day and night shades for boats and yachts offer enough privacy without totally darkening the boat's interior. These shades have dual purpose: 1) to filter the light that passes through the shades during the day and 2) to block light at night allowing you a restful sleep.


Cordless Lift
These window blinds come with a cordless lift. So you will no longer be bothered by dangling cords bouncing up and down as you sail through the sea. Simply raise and lower the blinds by tugging on its bottom. How is that for a clean look?

Another advantage of cordless lift is kid's safety. If you always bring along your kids while sailing, then their safety should be your priority when it comes to buying window coverings for your yacht. And nothing is much safer than cordless lift window blinds. More and more cases of strangulations from window treatments' cords are reported each year which prompted Blinds Chalet to redesign their blinds to make them more child-proof. They made the window blinds cordless. As the window blinds no longer have cords, strangulation cases were minimized, if not, diminished.





Hold Down Brackets
Another outstanding feature of the window blinds from Blinds Chalet is the hold down bracket. The hold down brackets keep the window blinds still despite strong winds found on the open ocean. Hence, you will not be disturbed by bouncing window blinds as you sail.
Blind Chalet's window blinds for boats and yachts are the ideal way to keep the heat out of your boat while still having your view. These window blinds offer you light control, comfortable interior as well as privacy. To order custom window blinds for boats and yachts from Blinds Chalet, just dial (888) 633-7840 between Mondays to Fridays at 6am to 5pm or during Saturdays at Sat 6am to 2pm.
Related Products
Post a Comment