Swimming Pool Design - Modern vs. Traditional
Apr 15 2013
A swimming pool can add elegance and class to your backyard, but it all rests on the design and implementation. For most people, their pools are the very core of summer as they provide constant refreshment, leisure and even a place to exercise. In swimming pool design, the most common distinction is made between the two main types: modern and traditional. When choosing whether to go for the classic or the contemporary style, it is wise to consider not just your personal preferences, but the surrounding area as well.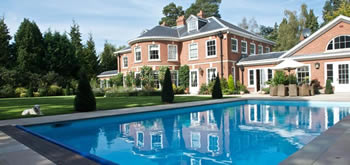 Traditional Pools
A traditional pool design typically involves the use of neat symmetric lines. Often, such pools encompass the standard rectangular lap pools, square or geometric pools, and the old-fashioned clean-line pools. Although more and more homeowners decide to upgrade their traditional pool designs to modern styles, about 75% of the pools built today are still on the classic side.
The traditional in-ground rectangular pool is not only aesthetically pleasing, but also very practical. It is perfect for those who plan to use their pools as a source of exercise. The customary long, straight lines are best for those who want to swim laps. If you have a huge space in your backyard and you are looking forward to being fit, a traditional pool is a great option for you. Make sure you have at least 600 square feet of free surface area to cover the traditional pool.
Reflection pools, the ones you see in parks, memorial sites, and gardens, also consist of the traditional straight lines or rectilinear shape. If you want to build a shallow pool with no fountain jets and other equipment to achieve a calm surface, the traditional pool is best for your garden. Suppressing the formation of waves is usually done by means of adding an outer basin floor, which is a little deeper than the centre.
Traditional pools are largely made from sandstone, granite and marble. Whilst the usage of these materials is relatively modern in domestic architecture, they still hold traditional values and aesthetics and are incredibly common for the more classically styled swimming pools.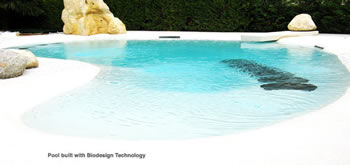 Modern Pools
Homeowners who want to inspire and show their creativity can opt for modern pool designs. As mentioned, a traditional pool comes with very clean, straight lines, but a contemporary pool can be of any style. It can be built to fit a small area, take up the whole yard, and even be integrated into the landscape. Modern pool design is simply about consuming space while blending with each and every element in the surroundings.
Freeform pools are among the modern pools, which are incorporated into an irregularly-shaped piece of land. If you only have a small space where a traditional pool cannot fit, the freeform pool is the better choice for you. These generally have subtle curves and consist of natural features to make the viewer believe them a native part of the environment.
Another type of modern swimming pool is the Natural Pool. Many homeowners choose this kind of pool over traditional pools, which contain chlorine. A natural pool is an ecological type of modern pool design, which is created without chemicals. It only makes use of plants and other natural components. This is perfect for those who want to achieve a genuine look as it depends on the style of the neighbouring landscape. This is also great for those who are looking for a more affordable pool with minimal maintenance since there's no need to empty and refill the pool. Depending on your type of natural pool, you may or may not need a filtration system.
Modern pools are made from a vast variety of materials, as there are so many sub-categories of what defines them. Generally speaking, metallic are used far more in modern pools than traditional. Aluminium, chrome and even zinc have been known to feature in contemporary design; but a lot of designers still like to use the more traditional materials and perhaps use them with a twist; for example granite with sparkling crystals of quartz has become popular in the last decade.
Author: Thomas Jones has been working with
Falcon Pools
for a number of years, since retiring from swimming pool contracting. As a designer, architect and marketer; Thomas continues to learn the complicated task of integrating a swimming pool in to its surroundings.
Want to participate in the Blinds Chalet community?
View details
Post a Comment