Top Hidden Storage Ideas For Your Home
Mar 18 2013
Have you ever leafed through a home décor magazine and tried to recreate the look—only to be disappointed? A good reason why is that those pictures are done in a way that maximizes the space; which isn't always "real world" practical. After you've cut the clutter, taking advantage of some hidden storage ideas can create a calmer, cleaner look for your home.
Storage Ottoman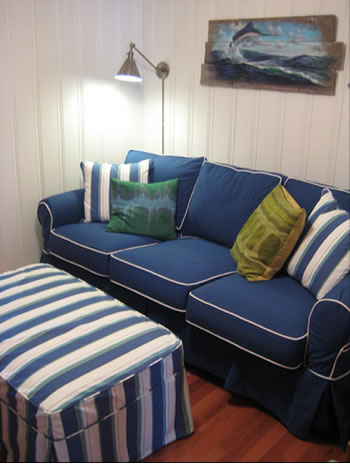 image
via
The larger ones make a nice alternative to a coffee table in the living room; these footstools have multiple functions. You can pull them closer to your seating when needed, use them as a table, and—if the top lifts off, you can hide things like magazines and TV remotes.
Window Seats
If you have a bay window, or a large wall with a window, you can make the most of your space by adding a window seat with a lift-off cushion. In one move, you've increased your storage space and added seating for friends and family.
Nightstands with Hidden Drawers
Traditional bedside tables have readily visible drawers, but choosing one with a hidden storage compartment will give you a place to stash your valuables and to cut bedroom clutter.
Storage Sofa Beds
By definition, sofa beds are already multipurpose, but the storage sofa bed takes the concept to another level. Here, you can store bedding for guests—when someone drops in late, you don't have to wake the entire household searching for blankets and pillows.
Hidden Storage Clock
This one's another great storage and security idea. They look like any other clock you might see on a mantel or an occasional table, but they have the benefit of a hidden storage compartment in the back. Use this space to hide jewelry, credit cards or cash for a rainy day.
Stair Storage
Just like the window seat, under stair storage helps you use home space that would otherwise be wasted. The area can be used to store winter coats and boots, sporting equipment or anything else you don't want to get rid of, but don't want cluttering up your living area.
Study Beds
These are so versatile that they deserve a spot on this list. You can pull it down for unexpected guests, or pull it up to use as a desk or work area—but the main difference here is that you don't have to tidy up the entire room or unplug electronics when making the switch. These are ideal for a teenager's room, where they need space for homework but don't want a huge desk, or for a home office that does double duty as a guest room.
Fake Electrical Outlet
If you have enough space for all your bigger valuables, but you want a place to hide things like cash, credit cards and jewelry, there's help. You can buy a fake outlet that tilts forward, revealing a small hole where you can squirrel away your small valuables. Installation is easy, and the look is so authentic that no one will be able to tell the difference.
This post was written by home improvement fanatic James Harper on behalf of
Vibrant Doors
.
Want to participate in the Blinds Chalet community?
View details
Post a Comment