Essentials to Create a Luxe Victorian-Inspired Bedroom

Essentials to Create a Luxe Victorian-Inspired Bedroom
Jan 14 2013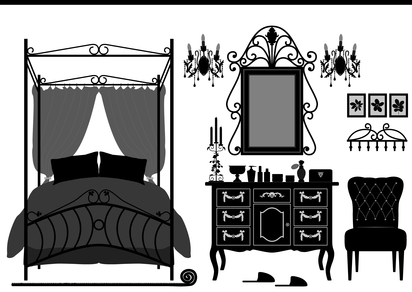 Heavily-upholstered furniture, realistic portraits, excessive ornamentation and rich hues define the influence of a style Queen Victoria herself began. The use of gleaming metal and ornate furniture can help you create a lush, vintage bedroom experience. Elaborately transform your bedroom using these eclectic, Victorian-inspired elements.
Patterned Flooring
Victorian floors are made up of lavishly designed tiles and thick-patterned rugs. Because it's your bedroom, you may want to use a full-size rug to avoid bare feet getting chilly on tile floors. Find flooring that complements your furniture and walls. If you choose a heavily patterned Oriental or Persian area rug, opt for lighter walls and tile. Hardwood floors can complement rugs and
Victorian-styled furniture
, as well.
Dark Colors and Rich Hues
Dark, rich tones of burgundy, violet, yellow and blue are luxurious colors to incorporate into a Victorian-styled bedroom. Woodwork should be in shades of deep-chocolate brown or mahogany to fit in with the rest of the color scheme. Weave these colors together by using furniture with stripes, scroll designs or a paisley print on the fabric.
Victorian Furniture
The focal point of your bedroom is your bed. Choose an elegant wrought iron or metal bed frame to add detail at the head and foot of your bed. For a more dramatic look, an intricately carved wooden bed frame or a four-poster canopied bed will add flair. Topped with a quality
mattress at Sleepys.com
, or other mattress provider, and luxurious, lacy bedding, you will create a setting that's rich with history, decadence and comfort. Complete the room with a large wardrobe, butterfly bench or chaise lounge and grandfather clock.
Window Treatments
Flowing from a four-poster bed, use light or lacy drapery that coordinates with your window treatments. Elaborate curtains made from silk, brocade, velvet or damask will pull the viewers eye from the furniture to the walls until they scan the entire room. The extra details count — use
decorative curtain rods
and complete the look with valances, tassels, cords and other embellishments.
Perfect Placement
Position your furniture to face a fireplace, ornate mirror or other decorative accessories you want to focus on. Each piece should complement the other, tying the room together in its symmetry. To hide unsightly items and for women to dress behind, a decorative screen can add depth to your room and section it into several working spaces.
Classic Accessories
In the Victorian era, people decorated their homes with grandeur pride using excessive amounts of ornamentation and accessories. Place bowls of faux fruit and vases of flowers throughout the room. Realistic wooden carvings of birds and animals are common in themed rooms. Keep a candle by your bedside and a
wash basin
for an extra touch of class.
Wall Decor
Use textured paint techniques or patterned wallpaper. Lighter walls will help the room feel airy without adding bulky or heaviness. Use crown molding around the ceiling and walls for extra detail. Hang ornate mirrors and Victorian-era prints in metal frames. Tie the entire room together with a chandelier and small, brass bedside lamps.
Mickey Waters Mickey has done the interior design for almost all of the stars. She is a minimalist for the most part and loves to include bursts of bright color to open up a room. She involves the art of feng shui in every aspect of her life.
Want to participate in the Blinds Chalet community?
View details
Post a Comment