Tips on Choosing the Perfect Area Rug
Oct 30 2012
Anyone who is interested in interior design knows that a rug has the power to transform an entire room. For this reason, there are several factors that you need to carefully consider when shopping for an area rug. In this article, we reveal these factors and tell you everything you need to know in order to choose the ideal rug for any room.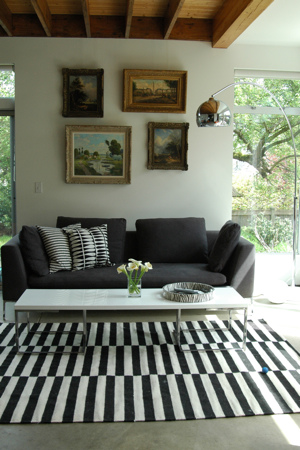 image
via
Budget.
One of the main factors in our decision making process is normally price and whilst the majority of us have a budget that we have to work to, there are guidelines that are worth considering rather than simply opting for the cheapest option. The best advice is that you should try to buy the best rug that you can afford as it will save you money in the long run. A good way of gauging how much you should try and spend on an area rug is to make comparisons to the existing furniture and surroundings in your room. In your main living room, a rug should cost at least as much as the amount you spent on your sofa, meaning you will achieve comparable quality and hopefully a more balanced look.
Color.
An important but often overlooked aspect is the color of the rug. Although it seems obvious that you want the rug to match and look right, just remember that the color of your rug must be in tune with the color scheme that you have already chosen. You can experiment with several options regarding the color, either choosing a shade or color that blends in or alternatively you can choose to create a contrast as a design feature.
Texture.
The texture you choose for your area rug is actually very important and is a key feature that can add to the warmth of the room. A wool rug is naturally a very popular choice as it adds a natural warmth and definition to a room. Make sure you give due consideration to the texture that you want in your room as it is an important aspect in the overall decision making process.
Materials.
The choice of material is of course dictated by budget to a certain extent, but the two categories are man-made and natural. Wool is by some distance the most popular choice not just because of its aesthetic appeal but wool is a combination of elegant, highly durable and within reason, easy to maintain with the correct care applied. Man made fibers like nylon and polypropylene offer a generally cheaper option for those on a limited budget but they are also easy to maintain and relatively inexpensive to replace, so they can offer an economical solution in high traffic areas of a house where children are playing regularly.
Size.
Choosing the right size of rug is an important consideration if you are going to get the right look in your room. Too large a rug and you overpower other features in the room and too small a rug will look out of place and also spoil the balance you are trying to create. As a guide, it is advisable to have one large rug in a family room with at least 12 to 18 inches of floor space around it in order to frame the rug. In a dining room, the dining table should preferably fit within the rug with extra space for the chairs. In your bedroom, a small but luxurious rug that you can step out onto when you get out of bed works really well.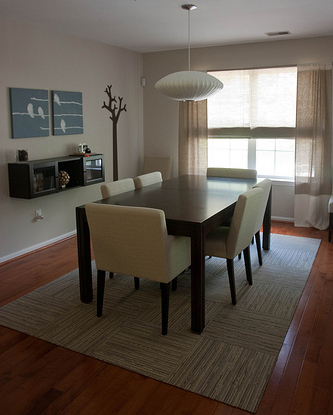 image
via
Getting ideas online about the colors and sizes you need can be done from the comfort of your own home or office using sites such as
AreaRugs.com
. Consider the money you are spending on an area rug as an investment rather than simply a necessity and if you take time to consider all your options and decide what it is you are really looking for, then you should be rewarded when you make your purchase, with an area rug that looks totally at home in your house.
Want to participate in the Blinds Chalet community?
View details
Post a Comment