5 Tips for Designing an Efficient Home Office
Sep 27 2012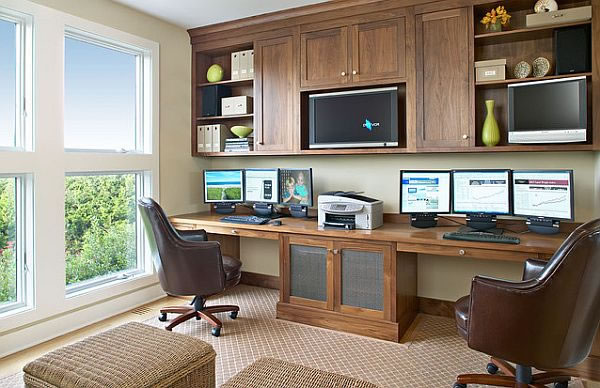 Photo Credit:
decoist.com
A well-designed office can add to the overall theme of your room, as well as provide a haven for work and productivity. Regardless of whether you're using the office for business or a work at home job, you'll want to ensure that the space is designed for the task. A poorly conceived design or layout can quickly destroy all chances of work, turning effectiveness into wasted time and effort. Luckily, homeowners have a great deal of freedom when it comes to designing a space that fits their exact needs. The following are several tips that can help you create an environment that's particularly conducive to efficiency and productivity: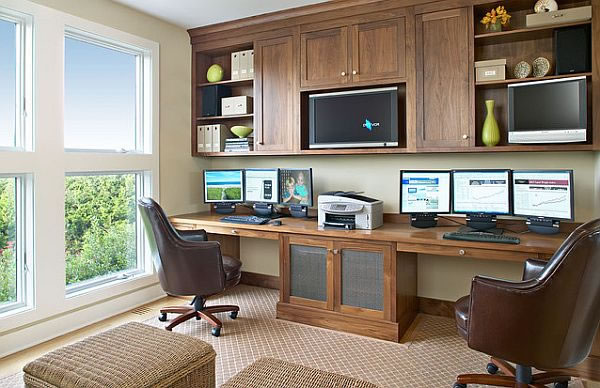 Photo Credit:
decoratingroomdesign.com
1. Arrange the Layout
The layout of your furniture, electronics, and other accessories in your home office can play a major role on your overall efficiency. For example, you'll want to place items that you frequently use closer to your desk, while bookcases and paper shredders can take the backseat in your office design. In addition, think about where you want to place your desk in conjunction to the window, and whether it's easy to navigate around the furniture. The layout of the various elements of your room can make or break your productivity; therefore, you'll want to find the right setup as early as possible.
2. Focus on Ergonomics
Ergonomics is a popular term when buying office furniture, as it provides the homeowner with comfortable alternatives for a work environment. In general, you'll want to choose a chair that's comfortable and provides enough support for your lower back and posture. The type of chair can have an effect on your health and mood, as the wrong selection can lead to arthritis, carpal tunnel or a bad back. However, ergonomics extends far beyond simply where you sit. From choosing a desk with adequate workspace to keyboard drawers for support, choosing the right furniture can make or break the home office environment.
3. Lots of Lighting
Working in a dark environment can have a detrimental effect on your productivity, from a decreased mood to not even being able to see what's in front of you. Therefore, you'll want to place your home office in a room that has plenty of natural lighting. If inapplicable, the next step will be to fill the room with artificial lighting. When choosing light bulbs, make sure to choose a type that doesn't strain your eyes or make it difficult to see. In short, the general goal is to provide your environment with enough lighting so that you'll be able to stay on task.
4. Remove All Distractions
In order to make your home office as efficient as possible, you'll want to remove all sources of distraction. Therefore, don't make the mistake of placing televisions, radios, or even speakers in your office (unless necessary, of course). Another tip is to avoid placing painting, mirrors or other accessories on the walls, as this will give your office a busy, crowded feel. In general, you'll want your home office to mimic a cubicle-like environment, and keep it sparse and efficient. Go for items that you absolutely need, and remove all distractions out of the design.
5. Keep it Clutter-Free
The more and more you use your home office, the more likely it is to collect clutter along the way. Whether in the form of scattered papers, office supplies or electronics, clutter can play a detrimental role in the efficiency of a workspace. However, there are a number of ways in which the homeowner can design the office to prevent such a problem. Filing cabinets or paper trays can keep documents organized, and using creative storage space can keep them out of sight and mind. By keeping your desk and area as clean as possible, you'll be able to create an environment that's conducive to efficiency.
Christine Cooney is a writer at The House Designers, writing articles on DIY and
award winning home plans
on The House Designers blog. She loves learning about architecture, home décor, and
online house plans
.
Want to participate in the Blinds Chalet community?
View details
Post a Comment