Simple Ways To Make Your Home Seem Bigger
Aug 30 2012
There is nothing worse than walking into a room and feeling like you've got nowhere to turn. Literally…
Rooms without room defeat the object! Instead of a place to relax or unwind, you end up struggling to find space for yourself amongst unnecessary furniture and outlandish décor.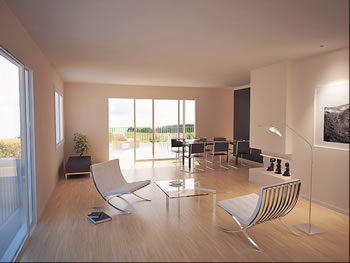 Less is definitely more when it comes to the appearance of any room. As well as utilising storage space, I'm going to let you in on some other techniques. Though seemingly simple, you'll be amazed at the overall effect on your room.
Wiser Walls
You walls surround your room, so you need to avoid the temptation of turning them into a giant photo album. When it comes to decoration, keep your wall hangings to a minimum and allow SPACE.
Space is definitely important. If you are trying to make a room seem bigger, it is far better to have one large picture than too many small ones taking up space across your wall.
Mirror Mirror
A staple feature in any room, mirrors are brilliant in optimising space within any room! They reflect light within the room whether natural or artificial, allowing more light into the area and overall creating that spacious feel.
Whether on wardrobes, walls or even table-top surfaces, mirrors are a MUST if you plan to make the maximum use of your space.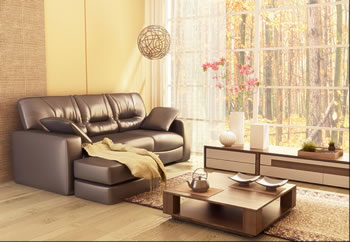 Furniture Fever
Starting with furniture, the key is to give the 'illusion' of extra space. One key tip is to avoid blocking entrances or viewpoints from doorways with furniture. If someone can come into your room and see a clear path ahead of them, the room immediately has a sense of openness and space.
The more floor space there is within a room, the better. Aim to keep clutter to zero! There is no need to accumulate things you don't need.
Another tip is buy furniture with exposed legs or glass features. It is also a good idea to allow a fair bit of distance between pieces of furniture, as too much rammed into one space strangles any available room instead of utilising it.
Lights for Life
Light is a brilliant contributor to a spacious room, especially natural light. Try to let as much as possible, even if you have to fake it! Lamps come in any type, style, and colour to bring flavour and a point of focus to your room. They also add that sense of comfort within a space, and backlit objects within a room always attract attention.
These techniques are just the beginning when it comes to making your home seem bigger. The bigger you 'think' when it comes to the potential of your space, the better your results will be when it comes to making any changes. No room is too small to apply these tips, and I am sure that you will be glad for the opportunity to make the most of your own space once you have finished reading.
What are you waiting for? I may have finished, but it's time for you to get started…
Good luck!
Juliette Douglas is a DIY enthusiast and considers home comfort to be high on her agenda. She blogs for
Luma Lighting
– suppliers of all kind of different lights you could strategically place to make your house look bigger.
Want to participate in the Blinds Chalet community?
View details
Post a Comment