How to Choose Your Home Spa for an Ultimate Rejuvenating Experience
Aug 24 2012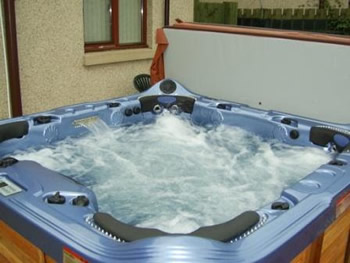 Buying a spa for your home is amongst the most rewarding investments you can ever make. But to get the most out of your spa it is vital that you know how to choose the right spa for your home that fits best to your desires and needs.
The size does matter!
The size of your spa is one factor that you must consider before purchasing your spa. No one can define your need better than you. Think about why you are buying a spa; only for personal use or it can be a place for family or friend bonding time. If you want a spa for the entire family, make sure your spa has space to accommodate all your family members at one time. The larger the spa is it is better for big families. However, you can opt for a smaller one if you wish to have it for personal use only.
Safety is must!
Usually, toddlers and pets are not allowed in your spa area as this can result in a disaster. So, if you have kids or pets at your home, ensure that you buy a spa or a hot tub that has locks to guarantee safety. A locking spa cover can also prevent trespassers from using your spa without your permission.
Spa Jets are important too!
Another important factor that can add to your spa or hot tub purchase is the spa jets. Hydrotherapy is the most exclusive feature that a spa can offer to the owner. Now it's up to you how intense you want the jets. You can also choose a spa model that allows custom setting options according to user preference.
Your spa should be easy-going!
You must go for a spa that offers easy to operate features and is easy to maintain in the long run. If your spa is used by someone who is not aware of the operation, guide him/her first before the use to ensure that you do not face any operational errors later.
Other choices…
The hot tubs and spas are really great investments and are available in a large array of models with a number of
spa accessories
available that one can choose according to their wish and need. For instance, if you believe in the power of aromatherapy, you can opt for a spa model that offers the same. Some spas also offer a variety of other accessories such as a treadmill, a stationary bike, a chair lift system, and an automatic cover lifter. Choose according to your requirement.
One Great Option!
Michael Phelps Signature swim spa series
is certainly amongst one the best options that stand on above said guidelines. This revolutionary spa series is easy to install and offers a comprehensive spa and hydrotherapy experience and has defiantly set a new standard in the industry.
Michael Phelps Signature spa
series offers a variety of other accessories such as a treadmill; a stationary bike, the Master chair lift system, and the Masterlift automatic cover lifter. The treadmill and bike generate more alternatives for water exercises while the cover lifter and chair lift make the spa more accessible for users with disabilities.
Author Bio -
This educational piece of content is created by Master Spa Parts, a leading source and supplier of spa and hot tub parts and accessories like Filters, Pumps, Parts, Circuit Boards, jets, etc. Visit
http://masterspaparts.com/
to choose from the range of useful spa and hot tub supplies for your
Master Spa
, Down East Spa, Twilight Spa or Legacy Spa parts. Also, get a huge assortment of spa chemicals and sanitizers, all at one place.
Want to participate in the Blinds Chalet community?
View details
Post a Comment