Seating Options For Your Living Room
Aug 17 2012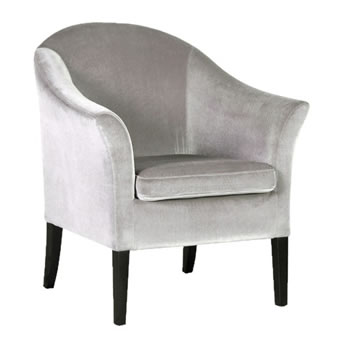 A living room can be considered as a communal room in the house as it is in this room that family and friends get together to relax and socialize. Moreover since the living room is the first place where your visitors step in, one need to provide the best impression as far as living room is concerned.
One of first thing that we consider while decorating a living room is the type of seating to use. There are a variety of seating options available for use in the living room that ranges in size, color, type, pattern etc. These seating facilities available can be modern, contemporary or traditional. Hence there is a need to do a careful study of your requirements and décor theme before deciding on which furniture to go for.
Sofa:
A sofa is an indispensable part of any living room. It is available as two, three and four-seater. Depending on the size of the room and the number of people using it one can go for different varieties. Sectional sofas are one in which multiple sections of two to four-seaters are arranged. The most common of this type is the L shaped sofa. Semi circle sofas are also used in large rooms. Another variety is the sofa bed where the sofa can be converted into a bed by pulling a lever. A smaller version of a sofa is called the loveseat where two people can sit. Two love seats when placed facing each other can make an excellent conversation area. Another variant is the divan that is basically a backless sofa normally placed against the wall.
Ottoman:
Next to sofa comes the ottoman, which is mainly used for extra seating purpose. Ottoman is a single-seater consisting of a padded seat, which is upholstered either in leather or fabric. It can be used as a stool for sitting, a footstool or in some cases as coffee tables. This is mainly used in small rooms.
Rocking Chair:
If the living room is spacious one can go in for a rocking chair. This chair has two curved bands attached to the bottom, which helps the chair to rock back and forth. Rocking chairs are mainly used for relaxation purpose. The main advantage is that, unlike sofa, it is easy to move a rocking chair while rearranging furniture in the living room.
Recliner:
Recliners are chairs that tilt backwards and come with a footrest, which can be pulled out using a lever. Some chairs even come attached with headrest to provide maximum relaxation. These chairs are mainly made of metal and come with leather or fabric upholstery.
Chaise Lounge:
This is yet another seating arrangement for relaxation purpose. This can either be formal or casual and are characterized by long seating area.
Most of these living room settings are made of wood. Wood can be hard wood like teak, oak etc or soft wood like pine and fir. Hardwood, even though expensive, is considered to be sturdier and long lasting than soft wood. Similarly the leather used for upholstering can be real leather or PU leather. Real leather is much costlier than PU leather. Metals, if used, will be either steel or aluminum. Chrome and distressed are the most common types of finishes for living room furniture.
Purchasing living room furniture is no more a daunting task. Thanks to the innumerable online furniture shopping portals, furniture will be delivered to your doorstep at the click of a mouse. The various shopping comparison sites helps in getting the best deal. A bit of aesthetic sense and a good knowledge of ones requirement can help in transforming the living room into a place of envy.
Author Bio:
The author Susan Johns is a freelance content writer specializing in home/interior décor writing. With over 5 years experience in the field of furniture and home decor, she has written numerous articles and blogs in this area. Please visit her blog
http://mydecoreview.blogspot.co.uk
.
Want to participate in the Blinds Chalet community?
View details
Post a Comment