Seven Fresh Ways To Decorate Your College Dorm Room
Jul 31 2012
A dorm room can be many things. In fact, when you're in college, it is basically the only space you have for all things, including sleep, work, play and food. That's why decorating your dorm room shouldn't be seen as frivolous. It's actually the perfect way to give yourself the space you need to live your best college life. If you're feeling stuck on ideas for turning your dorm room from drab to fab, check out some of these fresh (and pocketbook-friendly) tips to decorate your dorm room easily.
1. D.I.Y. Wallpaper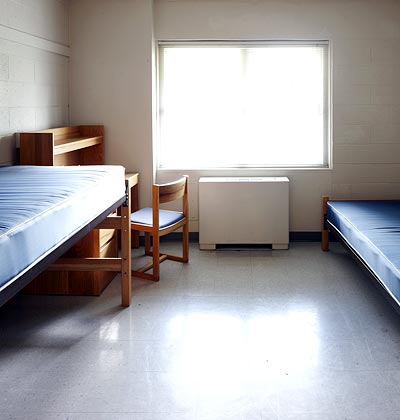 Before - Image
Via
If you are feeling bored surrounded by completely white walls, but don't really know what to do aside from hanging pictures and posters, there is actually a way to completely change the color of your walls. You will not be allowed to paint the walls in your dorm room, so the next best thing is to make your own wall paper. Simply buy a roll of butcher paper, or any type of colored paper, and use thumb tacks to tack it to your walls. Then you can use paint, chalk or pastels to create your own design.
2. Dry Erase Boards
One of the best ways to add a little color to your wall is by hanging a dry erase board. You can use it to write yourself reminders, leave notes for your roommate, or hang up pictures and print-outs.
3. Throw pillows and blankets
If you don't want to go through the trouble of adding color to your walls, you can always add interest in other areas. Try looking for some throw pillows that you love. Combine them with a fabulous throw blanket, and your space will look totally different in seconds.
4. Window Decals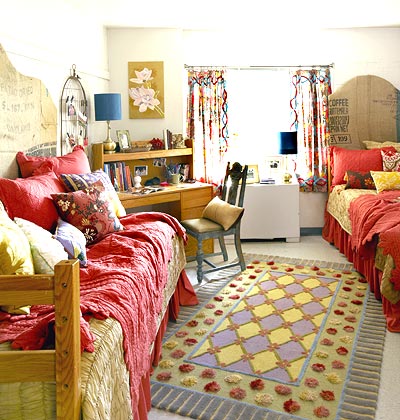 After - Image
Via
Not many people think about using window decals as decoration, but they are actually a really cool way to liven up a drab room. You can find removable decals in a variety of different styles. You can also completely change the look of your room by applying a stick-on translucent tint to the entire window.
5. Flowers and Plants
Flowers and plants are actually not as difficult to take care of as you may think. They also produce 0xygen and just make any room feel more alive. Head to a nursery and ask about their affordable indoor plants.
6. Old Bricks
Old bricks can be used for so many things in a dorm room. They also have a really cool vintage feel. Place bricks scattered around your shelves and use them as book ends. Or you can stack them with boards to create makeshift storage.
7. Magnets
Magnets are another cool way to add some personality to your dorm room. They also come in handy. Plan to stick them on your mini-fridge, and look for magnets that are funny or have cool designs.
An experienced writer on all things related to higher education and business, Amanda Watson spends her days covering the latest stories on various topics such as online mba rankings, web entrepreneurship, and social media marketing. You can contact Amanda at
[email protected]
.
Want to participate in the Blinds Chalet community?
View details
Post a Comment