How To Give Your Home That Vintage Look And Feel
Jul 30 2012
The vintage look is classic and creative. This style also has a lot of personality and flexibility. Knowing how to properly implement this look is key, however, because it can be a bit tricky when mixed with other elements. To add charm and comfort to your home, vintage is definitely the way to go.
Decorative Accessories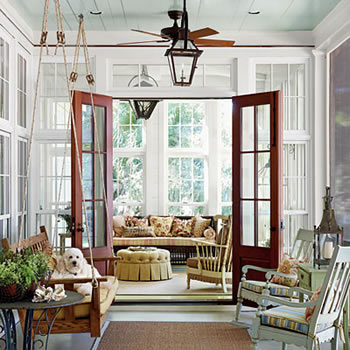 Image
Via
When choosing accessories with a vintage vibe, go for those that look a bit worn without being broken or in bad shape. Things like yellowing old photos, picture frames from grandma's attic, old metal and wood pieces all have vintage charm.
Old toys add charm and character. That old wooden train that has lost all of his mates, that doll you had from the 1970s and old tea party sets are an easy way to add some old to a new house.
Vases that are made from milk glass can be placed on a bookcase, or an old milk glass bowl can be placed on a coffee table. Branches and flowers can be added to these for a splash of color.
Patterned blankets and quilts can be placed over a comfortable couch or chair to add some vintage flair. Add a puffy pillow or two and you have a good balance of comfortable elegance.
A radio or phone from the 1950s is also great ways to date your decorating style a bit. It is even better if these still work because then they are not just decorations, but practical pieces in your design.
Furniture Choices
Antique furniture made of real wood that is a bit distressed is very much vintage. For example, an old three-drawer dresser with bronze handles can be placed in any room for storage space and charm. To add even more, take an old bronze-framed wall mirror and place this above it. On the dresser, place an old lamp and a flowery piece of fabric, along with a medium-sized picture frame for simple, old-fashioned charm.
Furniture pieces that are from the 1950s through 1970s all have a vintage feel. Just be careful with patterns and fabrics because you want to be vintage without going overboard. There is a reason that some things are no longer in style. You can also go slightly Victorian and still maintain that vintage feel.
Wall Hangings
An old map framed in a bronze frame or a silver frame brings some old to your new house. Another great choice is an old calendar on a month and year that has significance to you or your family. This can be framed and then become wall art.
Mirrors are just as popular now as they were in past decades. They can give the feel that the room is really bigger than it is. They also reflect light and can brighten up a space. Large oval mirrors are very vintage, as are bronze-framed mirrors. Placing a large rectangular mirror over your sofa adds personality and the feel of more space to the room.
Lighting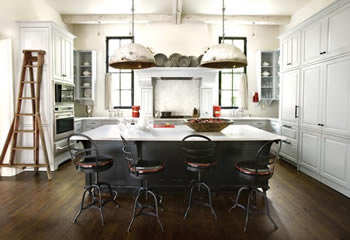 Image
Via
When going for a vintage lighting piece, think elegant and highly decorated. A silver chandelier adorned in crystals is always a good choice. It should have an old-fashioned look, but not be overly gaudy.
Lamps with odd shapes in bright colors are always a good choice. They are also a good way to add some personality to a room. For example, if your room is mostly neutral and clean lines, a fat, round lamp in red, green or turquoise can add some color and flair.
Another way to add vintage with light is using candles. You can put tea light candles inside of old sconces and hang these on the wall or even create a candle chandelier by removing the bulbs, adding small plates and then placing candles on these. This is sure to give a warm and cozy glow to any home.
Overall Design Choices
To create a classic look, a focal wall really never fails. If you have a brick wall, take advantage of this. If all of your walls are drywall, try a vintage wallpaper to add a focal point and to switch it up a bit. You can go very vintage with a wallpaper with large floral elements, or you can use a very 1970s geometric pattern.
About the Author: Jillian Watkinson just remodeled her
kitchen
to make it look as vintage as possible and loves the result! She's obsessed with all things design.
Want to participate in the Blinds Chalet community?
View details
Post a Comment