How To Give Your Kitchen A Vintage Feel
Jul 16 2012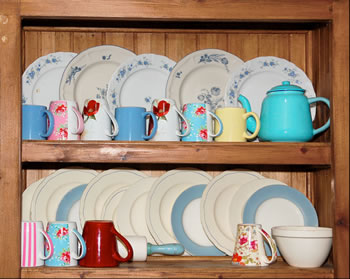 The kitchen is the ideal place to create a vintage look, as there are so many accessories and color schemes for this room that immediately suggest a funky retro vibe. Most of the time, our guests end up in our kitchens, and as the heart of the home, it's the perfect place to wow visitors with a quirky and unusual design theme.
Creative Color Schemes
The vintage kitchen is the place to experiment with bright and cheerful shades, especially bold accents such as reds for clocks, jars, tins and appliances. Red, black and white are of course the colors that will create a 50s diner feel.
Although they've been overdone a bit lately, pastel and aqua blues, pastel pinks, and pale greens with polka-dots and floral print patterns are immediately retro, and are particularly calming and easy to live with. Orange was very popular in the home in the mid 20th century and makes a gloriously cheerful accent color for a feature wall.
Accessories, Appliances and Displays
Cast-iron enamelware pans and dishes are instantly recognizable as retro, and come in some fantastic deep shades. What's more, they're great investments as they are a joy to cook with and will last a lifetime. They're ideal to keep on display in your kitchen, which bring us on to open storage. Open storage cabinets such as welsh dressers, or glass fronted cupboards, allow you to make a design feature out of your storage. Mottled and frosted glass on these looks very retro indeed. A nice way to update your fitted storage is to replace fittings with colored glass crystal doorknobs and drawer pulls.
Of course, the great thing about the vintage and retro looks is that things don't have to match, and it's often better if they are rather mismatched. It can be lots of fun visiting charity shops for retro accessories. If your kitchen is already very modern and quite "together" and you don't want to replace too many things or make major changes, then a few accent pieces such as a clock, vintage blender and polka-dot tea towels will add a vintage feel to a modern kitchen.
Delightfully Distressed – Furniture and Cabinets
You can transform lackadaisical wooden furniture items into retro-cool kitchen features with just a couple coats of paint. Here's how. You'll need two contrasting colors of water-based furniture paint, (like blue and orange) along with some medium-grade sandpaper, and a can of spray-on lacquer.
First, apply one of the paint colors and leave it to dry. Next, paint a couple layers of your second color over the top. Next up, you'll be distressing the paint to make it look like it's had many years of use with different layers of paint applied over those years. This creates a nice patina that gives a nostalgic, retro feel.
To do this, use the sandpaper to rub away at random areas on the edges and surfaces – concentrate on those areas that would naturally get the most wear. Distress some areas more than others to make sure it looks "real". When you're satisfied with the effect, simply spray the clear lacquer varnish over the top to finish off.
The great thing about creating a retro kitchen look is that it can be achieved in just a few hours, and can be extremely budget friendly. What's more, it's of course a very sustainable way to decorate, as by making a feature of previously out-of-date items and refinishing old furniture and fittings, you're reducing, re-using and recycling to keep things out of landfill.
There are lots of ways to create a vintage look in your kitchen, but we've focused on the simplest ways to give an instant vintage lift, and once you've got started with these easy suggestions, the sky's the limit when it comes to putting together a creative retro look.
David Ingram is an interior design and renovation blogger with a passion for retro, vintage and country styles. By day he works for a
Marylebone Estate Agents
, but by night he can be found scouring the vintage shops of London looking for bargains.
Want to participate in the Blinds Chalet community?
View details
Post a Comment