Improve The Look and Design of Your Home With Majestic Sun Awnings
Jul 2 2012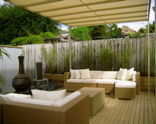 Sun awnings do not only protect your home from the blazing sun, they are a great way to add décor to the home. You can choose to install stationary awnings, or opt for a retractable awning, either way; they can add beauty to your home, and protect your family from the sun's harmful ultraviolet rays.
There are many areas of the home where an awning can be installed to enhance the look of the home and also create a shaded outdoor area, where you and your family can relax, and enjoy the warm weather without being scorched by the sun's heat. Installing a patio awning will do just that. You can choose to install them on the windows, to block out heat, or install it on a front porch. They can also be installed at the back yard, to create an extension on the house, for those summer family activities and cookouts.
Awnings were originally used to protect the house from the elements, but manufacturers are now designing them in different eye-catching colors and fabrics to beautify homes. They are versatile, because they protect the house from snow accumulation during the winter months, keep the rain off the porch and patio during the rainy season, and direct the glare from the sun away during summer months.
Although awnings come in metal, fabric or vinyl, if home decoration is the sole reason for installing a sun awning, then a fabric awning will make a better choice. They come in different sizes, styles, patterns, and vibrant colors, and can add a touch of class to any home. Choose small awnings to decorate the home because they look much more beautiful.
When choosing a sun or patio awning for decoration, consider the exterior color of the house, and choose a color that will complement the home. Style is also important when it comes to enhancing the looks of the home. Some of the popular styles are the waterfall, gable, the dome or traditional. A lot of people choose to use the services of an architect for this purpose.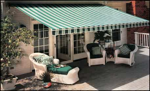 When it comes to choosing a means of protecting yourself and your home from the dangerous UV rays of the sun, more and more people are installing patio awnings to their homes. Sun, or patio, awnings, work in many ways. Not only do these awnings provide maximum protection from the sun, they can also enhance the beauty of your home by creating a "cozy" feel and in many cases increase your home's value.
Sun awnings
today, come in many options with the more modest models available at home improvement stores. If you are interested in a more upscale, personalized Sun Awning styles, you can special order exactly what you want and may even be able to design your own pattern design, edging style and more. The most desirable option for today's Eco friendly consumers are Sun Awnings made of Eco Friendly materials.
Your Sun Awning, also an energy saver, will transform an outdoor area into an outdoor living room. This new living external living space doesn't just protect from sun, but also rain and winds. This is a much better option than a patio umbrella, which can blow over spoiling your meal or event. Purchasing Eco Friendly products will make you a popular consumer and provide you with a conversation topic too.
Home decoration might be the reason for installing
sun awnings
, but they also come with an additional benefit of saving on energy costs. They reflect the sun away from the home so the interior doesn't get too hot. This means the air condition doesn't have to be on all day. Talk about a win-win home investment.
Author Bio: Michelle Janus is a Content writer and her interests are Technology, Home & Garden, and Eco living, and Travel.
Want to participate in the Blinds Chalet community?
View details
Post a Comment