The Dangers of Asbestos Exposure During Home Renov
Jun 19 2012
One of the latest trends in home renovation is the Do-It-Yourself (DIY) movement. Hoping to save some money, many homeowners are opting to do home improvements themselves. More homeowners are also becoming aware of many "green" options for replacing materials in their home.
If you live in an older home, a hidden danger may lurk in the walls, attic, and basement or even in sealants around your windows: asbestos.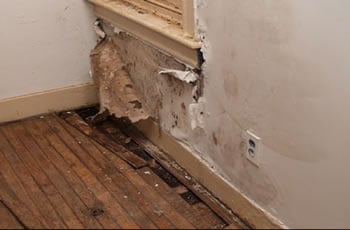 In many homes built before the 1980s, asbestos was a popular building product used in insulation, ceiling walls, floor tiles, roofing and window caulking. Before doing any work, you should hire a professional inspector to locate all the possible asbestos-containing materials (ACMs) in your home.
If you are trying to make your older home more energy efficient, safe and sustainable, looking at replacing asbestos-containing materials is probably a good idea. Asbestos is a known carcinogen that causes serious diseases like asbestosis, lung cancer and
mesothelioma
.
If asbestos is in good condition, it poses little threat, but it also breaks easily and this dust can float on the air and enter the nose and mouth. Over time, these fibers become lodged in the lungs, abdomen and the linings of internal organs.
Choosing to abate (remove) ACMs and replace them with more sustainable and eco-friendly options will not only make your home or building more green, it will also make it safer. Asbestos is found in many areas in the home, but insulation, roofing and window caulking are some of the most common places to find it.
Insulation
Asbestos is resistant to extreme temperatures, making it an ideal insulator. Asbestos insulation can be found in roofs, walls, water pipes and heaters. Homeowners have a variety of eco-friendly insulation choices to replace asbestos:
Batting or Blanket Insulation. This type of insulation is made from wool or cotton and is sold in rolls. A popular type of blanket insulation is made from recycled denim.
Spray-in Foam. Asbestos insulation that is sprayed on is one of the most dangerous products. Spray-in foam made from soy provides all the benefits of traditional foam.
Cellulose. Cellulose is a fire-resistant loose-fill insulation made from recycled newsprint.
Acoustical Panels. Asbestos was also used to absorb noise. Panels made with recycled cotton fiber that are mold resistant make great replacements.
Roofing Materials
Another popular use for asbestos was in roof shingles and roofing cement. There are several materials that can add style and efficiency to your home:
Slate. This material is recyclable and durable, though it can be more costly.
Metal. While this may seem like an odd choice for a roof, it is durable, can be recycled and energy efficient.
Clay. This material is durable and energy efficient.
Caulking and Sealants
One place homeowners might not think to look for asbestos is in the caulking around windows. Caulk is used to reduce noise and insulate. Many caulks may contain asbestos.
Some asbestos free and eco-friendly caulk brands include:
ECO-BOND® Adhesives. This brand is waterproof, non-toxic and hypoallergenic.
GeoGreen® Siding, Window & Door Sealant. This sealant is specifically designed for use to seal areas around windows, siding and doors. It has does not shrink, is flexible, is UV and weather resistant and can be painted with latex-based paint.
Safecoat Caulking Compound. This compound does not dry or crack, is water resistant, non-toxic and does not release any odor or solvents.
Make sure to do a price comparison between different products and brands since some may be more expensive than others. Though you may initially spend more on the materials and installation of eco-friendly products, being able to reduce asbestos exposure and protect the environment is well worth the cost.
Remember, asbestos abatement should only be performed by a licensed, trained professional. But if you are doing work around suspected ACMs, always use the proper Personal Protective Equipment (PPE) such as disposable gloves, head cover, coveralls, shoe protectors and a respirator.
Bio: Michelle Y. Llamas researches and writes about asbestos and its related diseases for the
Mesothelioma Center
.
Want to participate in the Blinds Chalet community?
View details
Post a Comment