How to choose the right headboard for your bed
Jun 11 2012
If you are struggling for ways to switch up your bedroom décor without calling in a professional, a new headboard could be just the thing you're looking for. Changing the way your bed looks can create a dramatic difference in the room, and could be a lot easier than giving the room a new paint job.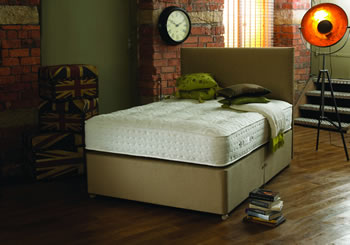 If you like the idea of making your bed the focal point of your room by adding a headboard, but aren't quite sure where to start, here are 3 questions you should ask yourself to feel more inspired:
1. How big is my room?
Let's get the easy bit out of the way and make sure the headboard will fit your existing bed or divan bed. Conveniently, headboard and bed sizes are standardized. Double bed? Then you buy a double headboard. It's hard to go wrong.
The next thing to consider takes a little more thought. Pay attention to the area that your headboard is going to fill. You should consider how much space you have around the bed and how high your ceilings are to find a headboard for your bed that is in proportion to the room.
If you have a spacious bedroom, you might consider adding an elegant oversized headboard to create a bold look. You could choose something classic and ornate, or you could try a huge padded wallboard to create a contemporary look, bring focus to the bed, and give you something comfortable to lean against when spending time in the room. If you're living in a small flat, you should keep in mind that a headboard that is too tall or too wide could also easily consume the space and make the room feel smaller.
2. What style do I want to create?
When choosing a style, you might find yourself in one of two situations. Maybe you love the way your room looks now, but want to build on what you have by adding some furniture. Or maybe you want a complete overhaul. In both cases, start by looking at what furniture and features are already in the room. Take in the colours, materials, and themes then decide what will and won't suit your bedroom style.
If your room is filled with neutral greys, whites, and blacks, consider adding some new life to your colour scheme by adding a bright, vivid headboard. You can bring harmony to the design by adding small objects in the same vibrant colour throughout the room, or use a colour wheel to find other colours that match. You could use this as an excuse to finally buy those outrageous owl cushions you've been eyeing, or to replace that old alarm clock with something more modern.
3. How creative do I feel?
There is no real limit to how much, or how little, you can say with headboards. You don't have to commit to the way a headboard looks when you first buy it. If you're not afraid to get your hands a little dirty, you can customise a headboard to suit your own unique style.
You could improve the base by covering it with a fabric you love. Have you always wanted leopard print in your room but didn't know where to put it? Now is your chance. You could splash some paint on in a pattern to add some personality. Stripes? Stars? Flowers? The sky is the limit. You could even use the wall as an extension of the headboard by painting it or adding shelves that fit alongside the headboard.
It might be good to start by browsing a few interior design blogs to come up with some ideas to find a starting point for your new bedroom style.
With those tips in mind, plan a home improvement weekend, let your imagination run wild, and offer your bedroom a brand new look!
About the author:
Tahnee is an experienced freelance blogger and home furniture enthusiast and is happy to share her decoration ideas with the community of interior design lovers. Tahnee is currently working with Wedo, a brand new online retailer specializing in stylish bedroom furniture.
Want to participate in the Blinds Chalet community?
View details
Post a Comment