7 Wonders Of Green Technology
Apr 26 2012
Whenever we think of Green Technology, vast landscapes and meadows come to our mind. However, with increasing population and decreasing green cover, finding landscapes and meadows is becoming increasingly challenging.
Tiding over this problem was never easy, though we can thank our intelligent architectures that have come up with a viable solution. Floating eco cities, towers glowing with solar power and turbine driven skyscrapers are some of the green technologies that are making their way in dense city architecture.
Below are listed seven of the conceptual designs that form the core of the ecological innovations.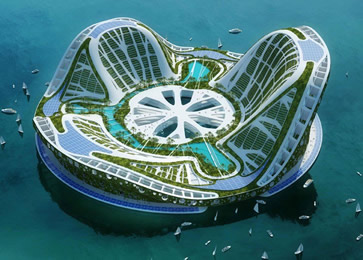 Lilypad project
This is certainly one of the most innovative designs ever conceptualized. The concept is to create a series of self-sufficient eco-city islands that would be floating. Every island will be home to around 50,000 people and will have a diversified mix of biodiversity.
Pools will be built in centre of the island and will collect and filter water that will be used by the residents.
Wind turbines at Bahrain World Trade Centre
The 3 wind turbines located between two towers comprising the main buildings are another piece of architecture that deserves mention. Bridges between the towers connect these massive wind turbines. The shape of the towers allows them to accelerate air and help building generate power. This is in fact the largest of the wind turbine incorporated within the design of a building.
MagLev wind turbines
Another worth mentioning innovation in Green Technologies is the MagLev wind turbines. Magnets have been used to levitate the blade fiction thereby producing more power without any additional expenses incurred on power production. This innovation can power up to 750,000 homes.
Glowing solar towers in Spain
Sun energy is being used to power homes. This can be billed as Europe's first commercial power station that operates on solar power. This works on a simple concept. The sun rays are directed at a single point on the tower. This turns water at that place into steam. This steam is directed into turbines, thus producing electricity. The process may seem strange but is working extremely well.
Skyscraper farms
Another innovation that is still in its infancy, the urban skyscraper farms will in fact feed people. Food crops will be grows as in their natural surroundings. Rainwater reuse systems are being designed to give a practical form to this innovation. However, the large costs involved are acting as a hindrance at present in giving this idea real shape.
Dongtan Eco-city
A sustainable city in true sense, the city will be spread over 50 squares mile and is proposed to be split between urban and agricultural lands. The city will have wind and solar energy systems and will rely on organic farming strategies. Emission free public transport is also being visualized for this model city.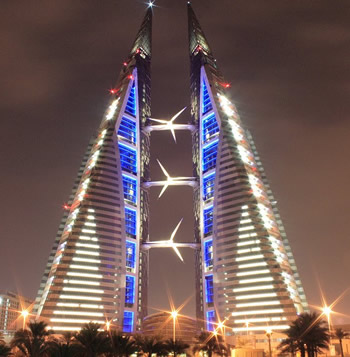 Lighthouse skyscraper
A 1000-foot high skyscraper is set to use almost half of the energy and water needs of a similar high rise building. Wind farming techniques will be used in this skyscraper whose designs are being worked on.
Some of these concepts as Wind turbines at Bahrain World Trade Centre and Glowing solar towers in Spain are already operational. Others are in conceptualization stage and will see the light of the day soon.
Green Technology is the need of the hour and we need to work relentlessly to give these ideas a practical shape, if we want to ensure a greener and cleaner tomorrow for the coming generations.
About the author
: Margaret is a blogger by profession. She loves writing on environment and technology. Beside this she is fond of books. She recently did an article on
christmas decor
. These days she is busy writing an article on
ace of spades champagne
.
Want to participate in the Blinds Chalet community?
View details
Post a Comment