Remodeling your Bathroom? 5 Popular Bathroom Design Styles
Apr 24 2012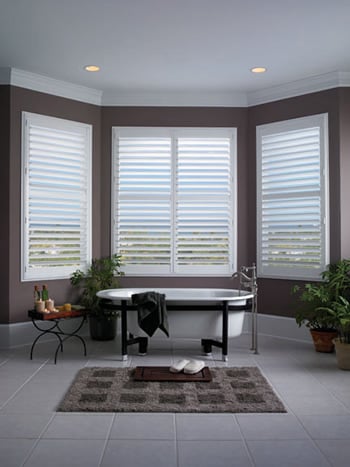 When remodeling your bathroom, it's critical that you choose a style that fits your personal taste. To do this, there are a number of routes you can take. Design your bathroom based on color and furniture preference, or model it after a popular design style. While you can utilize a mix of both, choosing a popular style will give your vision direction and focus. Here are 5 design styles to get you started.
Romantic
Who doesn't want a romantic bathroom? It's your get away from the everyday hustle and bustle, so you want to do it right. Romantic bathrooms can be done in a variety of ways, but there are two must-haves that you don't want to forget.
Mood: A romantic bathroom is all about the mood. Choose colors that are next to each other on the color wheel. This ensures that you'll have a seamless color coupling which invites relaxation.
Luxury: Indulge in your senses and your furniture. Splurge on a vintage, romantic vanity and bear claw bathtub.
Classic
The classic bathroom is always in style, and very customizable. You'll want to incorporate the staple items, such as a wooden vanity and bathroom/shower combo, but couple it with more up to date accessories for an over-all crowd pleasing look.
Utility: The classic style is focused on utility. Update this traditional design with newer items such as a "his and her" sink.
Mediterranean
The Mediterranean style bathroom is all about bright pops of color and warm energy. If you've always been interested in the old world, rustic style and coloring, this bathroom design will be perfect starting point for you.
Natural: Mediterranean bathroom design styles utilize a spectrum of natural toned colors. Think turquoise blue or terracotta red.
Rustic: Utilizing stucco textures and rustic, old style furniture will complete the look.
Modern
The modern bathroom design style is perfect for a new home owner or mid twenties designer. This style expresses your minimalistic tastes, which will come through in your choice of furniture and color design. There are a number of ways you can go with this design, as it is a broad style category open for personal interpretation.
Vitality: Choosing colors that revitalize the mind and make you feel good, is what the modern bathroom style is all about. According to HomemadeSimple.com, "Of the seven colors in the light spectrum … the hot colors of red, orange and yellow are full of energy."
Sleek: Many modern bathrooms utilize "floating" sinks, shelving units and vanities. This gives the bathroom the minimalistic, non-bulky, feel you're hoping to achieve.
Eclectic
Can't decide which design is best for you? Perhaps you should try a mix of them all – go eclectic. If you've always had a range of style preferences, this is the design pattern for you. Eclectic bathrooms leave room for anything and everything.
Old school: Utilize old technologies, such as the shelf mirror or pedestal sink.
Retro: Use different colors and themes to reflect the styles of the 40's and the 50's. There are a variety of ways to achieve this look, such as through funky, geometrical paint, accessories and rugs.
Zen: A Zen bathroom has a relatively simple style and promotes a sense of flow from one element to the next. Choose soft, earthy colors and a bathtub next to a window, through which you can contemplate nature.
Choosing the right bathroom design style is critical to having a bathroom that you love. These bathroom design ideas can be customized based on your personal preferences and needs. Use the designs as a starting point to create the bathroom of your dreams.
Christine Cooney loves learning about architecture, gardening, and floor plans. She one day hopes to devise a for her own dream home.
Want to participate in the Blinds Chalet community?
View details
Post a Comment