More Window Shutters to Choose From!
Jan 27 2012
Blinds Chalet has added more choices for interior shutters! Choose from real wood shutters, composite shutters, as well as polyresin shutters. Each type of shutter has it's own pros and cons.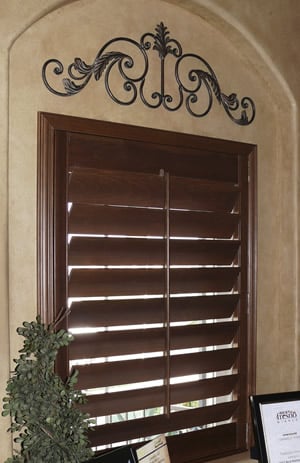 Real Wood Shutters
It's hard to beat the look of a
real wood shutters
, especially when the shutters are a stain color. Although there are many wood alternative shutters that look like real wood and they keep getting better, real wood stains stand alone.
One disadvantage to real wood shutters is moisture. Just like any fine furniture made from real wood, wooden shutters are not designed for areas of high humidity or moisture.
Composite Shutters
Engineered from synthetic materials similar to MDF,
composite shutters
use wood residuals compressed and held together with a resin binder. The shutters are either painted or wrapped with a vinyl material. This process makes a very durable shutter at a lower price point than real wood. For a white shutter we highly recommend this product for its price and dependability.
One disadvantage to the composite shutters is over time the wrapped material may peel.
Poly-resin Shutters
Made from vinyl,
poly-resin shutters
are extruded with hollow louvers and frames. This process creates a shutter that is an excellent insulator. If you are looking to save on energy bills, this shutter is for you. Because the shutters are made from vinyl they will not warp, chip, or peel. They are also stain and fire resistant.
Whatever your needs are Blinds Chalet has a shutter to fit your needs. Buy
shutters online
, do it yourself and save big!
Related Products
Post a Comment