Search Results For: comfortex
1 Matches
Window Coverings
Retail: $244.20
FREE shipping

Rated 4.0/5
Common Questions for "Comfortex"
How To's for "Comfortex"
Measuring Roller Shades
Each
roller shades
comes with a cord lift. The side in which the lift cord is located will have a gap to allow room for the lift.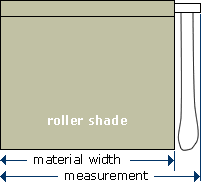 The measurement will be the tip to tip measurement and will take into account the width of the controls....
more
Comfortex Blinds - Cleaning and Care
Comfortex blinds are easy to clean and care for. Whether it is a Serenade roller or roman shade, simple dusting and vacuuming can keep your shades clean for a lifetime. Serenade fabrics are anti-static shades and will actually repel dust....
more
Energy Efficient Window Coverings
With
energy efficient window coverings
, the fact is that any type of window covering is better than no window coverings at all when if comes to energy conservation. Not all window coverings are created equal however at conserving energy. But any window treatment can help lower energy costs and sometimes by hundreds of dollars per year. Blinds Chalet has created a simple tool to calculate how much window coverings save. Simply enter your home size and calculate which are the best energy efficient shades....
more
Window Shades and UV Protection
Solar Shades, Blackout Shades, and Other Window Treatments that Block Ultraviolet Transmission
Solar shades are light filtering, blackout shades completely block light. Both can be excellent window treatments if you are concerned about UV rays and want to preserve your fabrics and wood. Ultraviolet rays may not be visible to the human eyes but can damage carpet, furniture, and fade wood flooring....
more
Insulated Window Shades Save Money and Energy
ComforTrack Honeycomb Shades are possibly the best insulating shades on the market. 50% of heat loss or heat gain happens through windows. Replacing windows can be costly and require construction costs and the hiring of professionals to install them. This is why consumers are turning to window blinds to help insulate their homes.
Insulated window blinds
are easy to install....
more
News Articles for "Comfortex"

Solar screen shades cut sun glare, block UV rays and save energy
Oct 11 2011
With the growing number of electronic devices in the average household, eye strain has become an issue that the right window treatment can modify.