Q:
What colors are available for the ComforTrack cell shades side tracks? I would like a color to match the color of the honeycomb shades.
A: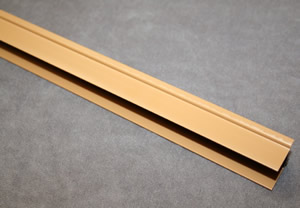 ComforTrack Brown Track

ComforTrack cell shades feature either white or brown side tracks. The side tracks can be ordered to match either the wall or the shades. The color choice is a matter of personal preference.

Honeycomb cell shades are made with insulating fabric. The unique honeycomb shape traps air within the fabric, creating a thermal layer of insulation. ComforTrack cell shades are designed to insulate even better than standard cell shades. The added side tracks block heat loss/gain between the shades and the window frame.

At Blinds Chalet we offer various versions of the ComforTrack Shades. Choose from our private label version, the EnergyTrack Shades, Comfortex brand ComforTrack Shades, or the SlumberShades which are the official window shades of the National Sleep Foundation. SlumberShades offer blackout fabric with blackout sidetracks to block all the light from passing through your windows. Buy your ComforTrack Shades today!
1
answers