Q:
What is the difference between comfort track shades and energy track shades. They look exactly the same. They only come in translucent or blackout? No room darkening ones where a little light would come through?
A: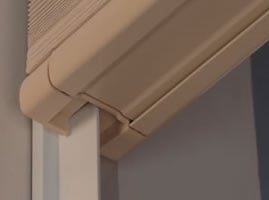 The EnergyTrack and Comfort track shades are actually the exact same product. The Comfortrack shades are the name brand product and the Energytrack is our private label of the same product. Both are made from the same manufacturer. The Comfortrack shades carry the Comfortex name.

Comfort track shades are designed to block more energy loss with added side tracks between the shades and the window frame. Similar to "zipping" closed a jacket adds more insulation, adding sidetracks "zips" up your cell shades and insulates your windows better.

Comfortrack shades are available in either translucent or blackout. Room darkening shades are actually the same as blackout shades. It is just a different way of saying the same thing. If you want light to pass through the cell shades while still providing privacy then light filtering or translucent shades is what you are looking for.
1
answers