5 Benefits Of Soft Sheer Shades
Jan 29 2015
You have an array of choices when it comes to recreating your living space into a luxurious yet comfortable atmosphere. You can start by updating your furniture and then repainting your wall with warm colors to create a soft look that could satisfy your senses. Don't forget the lighting in your home because it can totally change the mood in any room. And when it comes to lighting, the
soft sheer shades
from Blinds Chalet could be the perfect addition. Soft sheer shades give you the elegance of a sheer as well as the precise control of a blind. As there are numerous window treatments available out there today, you may ask why you should choose soft sheer shades over the rest. Here are the reasons why: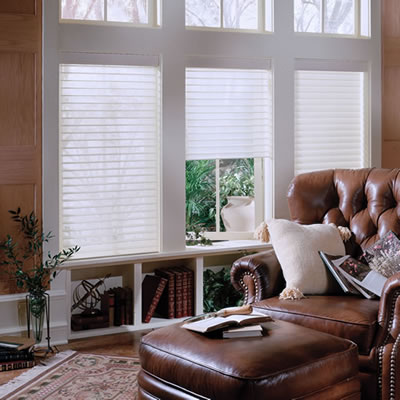 1. Soft sheer shades filter sunlight that goes inside your home.
Soft sheer shades pairs sheer with fabric vanes which transform the light that goes inside a room. The shades diffuse the light and distribute it to the interior space allowing just the right amount of light inside while giving any room a soft and elegant look. As warm rays from the sun are diffused, the temperature inside the room will also be kept to a moderate level making your living space a more comfortable one.
2. It protects the upholstery and other furniture from wearing out.
The soft sheer shades from Blinds Chalet has the ability to block UV rays from entering your home and thus any damage caused by the sun to your upholstery, wooden furniture and floors would be prevented. Imagine not having to spend hundreds of dollars each year for the maintenance of your furniture and floor anymore. This is a benefit you can ultimately enjoy once you install the right window treatment to your home like the soft sheer shades.
3. Soft sheer shades give you your most needed privacy.
Whether or not your purpose for having soft sheer shades is aesthetics, you can fully enjoy the benefit of privacy from these window treatments. Control the shades to close completely so that you can accommodate any level of privacy. This flexibility makes the soft sheer shades a good addition to any home as all of us want some level of privacy in our precious abode.
4. Soft sheer shades from Blinds Chalet come in so many design options.
You will never run out of soft sheer shades design options if you purchase them from Blinds Chalet. At Blinds Chalet, you'll be able to choose from a variety of soft sheer shades to fit not only your budget but also your aesthetic, whether you prefer a contemporary setting or a traditional style. Here are some designs you can choose from:
Light Filter Horizontal Sheer Shades. These are made of a durable nylon and polyester blend that give you the sheer look you desire while still remaining tough and durable.
Room Darkening Horizontal Sheer Shades. These are excellent blinds that darken your bedroom but still allow for a full view out your windows.
Light Filtering Zebra Shades. These offer both sheer fabric and light filtering fabrics in the same shade. The unique fabric offers a zebra like pattern with alternating strips of light filtering and sheer shades.
Check out other design options
here
.
5. Soft sheer shades are controlled by Omni cord mechanism.
The cord system that controls the movement of the soft sheer shades' vanes gives you numerous viewing variations. The Omni cord mechanism changes the positions of the vanes offering you the combination of privacy, view-through, and light control. This flexibility is something you can hardly enjoy from other window treatments.
To find out more information about the soft sheer shades or any other window treatments from Blinds Chalet, call us at (888) 633-7840 or leave us a message today!
Related Products
Post a Comment