What Are Privacy Mini Blinds?
Jun 20 2013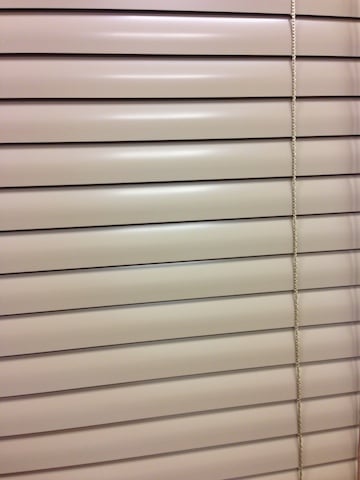 You will notice that there is no routed hole.
Privacy mini blinds
are made with 7-gauge aluminum. Privacy mini blinds are not routed down the center of the slat, but are notched on the back of the slat; the cord is threaded through this notch instead of through a routed hole. This means that there will not be a slot in the center of the slat that will allow light to come through, and will not obstruct your privacy when your mini blinds are closed, since there are no openings for someone to look through.
Traditional Mini Blinds
are made from aluminum or vinyl, and are routed down the center of two different points on the blinds; a cord is threaded through each routed slat in order to allow lift and tilt controls. Essentially this is how you are able to raise and lower your blinds, as well as open and close them.
There are basically two problems with traditional mini blinds: when traditional mini blinds are closed they allow ambient light to come through the window, and they also allow others to see into your home at night when your lights are on.
Problems With Traditional Mini Blinds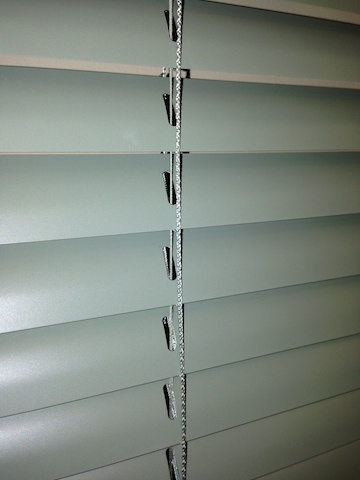 You can see the routed holes
Ambient light penetrates the routed blinds causing reflection on your television - nothing is more annoying then trying to watch a television show during the day, and having a horrible light reflection on your screen.
Privacy is limited at night; people can see through the routed holes on a traditional mini blind. This effects anywhere the mini blinds are installed; in a home, office building, or commercial space.
Why You Should Choose Privacy Mini Blinds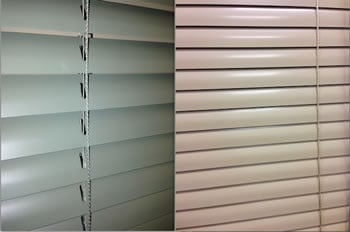 Traditional mini blind on left and privacy mini blind on right
Privacy mini blinds were constructed to overcome the two problems with traditional mini blinds. The actual function of the privacy mini blind is exactly the same as the traditional mini blind; you raise and lower with a cord, as well as, open and close them with a wand. The privacy mini blinds are manufactured with a one-inch slat and use
7-gauge aluminum
, in order to increase durability. The tilt bar is located on the left of the blind, and the pull cord is located on the right. In the image below you will notice how different the privacy mini blinds look compared to the traditional mini blind when closed.
These particular privacy blinds are not like traditional rout less blinds. Rout less blinds usually have an open notch on the back of the slat, which will offer the same privacy benefits (see image below). However, because the notch is open, individual slats can be moved or even removed by a pet or child. The notch on the privacy mini blind is closed which keeps the slats from "floating" or moving around.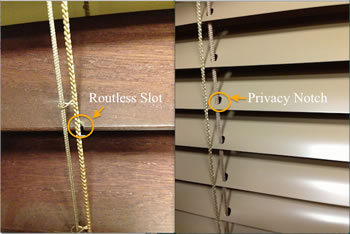 Traditional routless blind on left versus privacy notch on right
The one-inch privacy mini blinds are available in four gorgeous colors and a
variety of sizes
. Choose from coffee, off-white, olive, and snow white; these blinds also come with a limited lifetime warranty. There is a slight increase in cost when you upgrade from a traditional mini blind to a privacy blind, but the cost is justified with your ability to control the ambient light, and increase your privacy.
Do you have questions about privacy aluminum mini blinds? Ask us in our comments section below and we would be happy to answer them for you.
Related Products
Post a Comment