Designing Your Own Home Theater
Mar 20 2013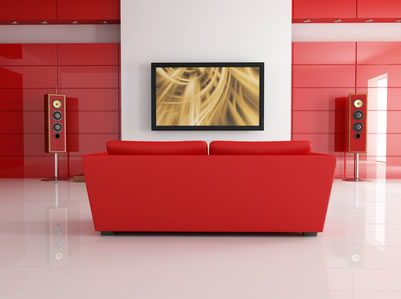 Whether it's a big game, a great movie or you're favorite reality show, the media we consume is only as good as the environment in which we watch. A good media room is a sanctuary — an escape from the hustle and bustle of everyday life. Here, you can escape to another world as you let stunning pictures and captivating sound fill your mind.
A high-quality entertainment oasis doesn't just appear out of thin air. The television, sound system, furniture and lighting combine to create an atmosphere conducive to viewing pleasure. If you're looking for an entertainment upgrade, take a comprehensive look at the ultimate media room.
The System
A great entertainment room starts with a great entertainment system. Nonetheless, with some helpful tips, you can select the best model of home entertainment for your place without many worries.
Start by selecting a system that can be expanded later on. This will offer the flexibility you need to make additions to your set up as and when you want because it's only natural that you'll keep adding to your movie and music collection.
According to consumer reports a TV with 1080p has full HD capabilities. As the price gap between 720p TVs and 1080p TVs shrinks, consumers with an average price range can opt for a higher-resolution screen. As you set up basic and premium channels through
cable.tv/direct-tv
, spring for a TV that clearly displays your favorite movies, sports and shows.
TVs get most of the attention; however, a good sound system will set an entertainment room apart. Designate space for speakers throughout the room. Bose is currently the standard in consumer sound, but Samsung, Sharp and Phillips offer quality sound for less money.
The Furniture
Moreover, If you're ultimate media room is a success, your family and friends will spend hundreds of hours relaxing on sofas, love seats and chairs. For the sake of your back, don't take
shortcuts on furniture
. The right combination of cushioned seating and table space will enable you to greet guests with beverages. Chances are you didn't designate the biggest room in your house for the media haven.
Creativity becomes paramount when dealing with tight space. An "L" couch is an efficient way to sit at least three. Alternative furniture provider
Lovesac
has resurrected the bean bag chair. Less cheap and chicer, a creative piece like this will add character to your room.
The Lighting
No matter how many pixels your TV screen transmits, bad lighting can make a movie, show or game unbearable. When it comes to lighting, control is the operable word, especially in an entertainment room. Lighting often comes down to preference. Watching the Super Bowl calls for a bright, festive atmosphere, while watching an Oscar-nominated drama is conducive to a more somber atmosphere. Stock your media room with diverse lighting that can handle any occasion.
Blackout shades
will give you complete control over the mood of the room.
It's up to you to add a creative touch to your dream media room, but technology, furniture and lighting will get you headed in the right direction.
by Brandon Jolley
Post a Comment