Wood Blinds Offer Your Room A Break From The Sun
Jan 23 2013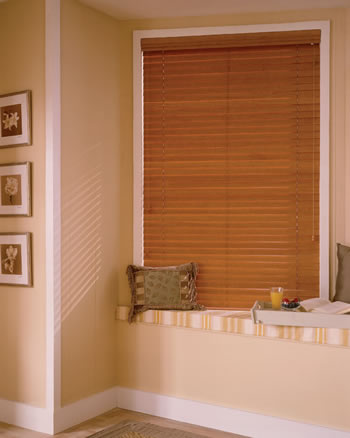 Wood blinds are commonly known as Venetian blinds. Horizontal wood slats are joined by a corded pulley, which gathers all the slats at the top of the window to reveal the view. Or, the slats can be set at an angle to allow light to travel through the blind, all the while still retaining some level of privacy. Wood blinds come in a number of finishes, stains, woods, colors and sizes. Wooden Venetian blinds are also available as vertical blinds. They are manufactured with wider slats, and they operate in virtually the same way as the horizontal blinds. Although instead of being drawn upwards to reveal the window, they will draw to one side, gathering in a vertical bunch.
One very highly sought after wooden blind of today, are what is called, the faux wood blinds. Faux wood blinds are an alternative to real wood blinds. The faux wood is made of a composite of natural wood particles, and man -made materials. Faux wood is also a much less expensive choice than natural wood. These blinds offer a more of a natural look of a wood blind, and they have become more popular as the products have matured. Faux wood is an extremely versatile blind. Faux wood blinds are currently more warp resistant than ever before and have UV ratings as high as five hundred. They are available in many colors that are very hard to find in natural wood blinds. Due to their resistance to warping, faux wood blinds are a great choice for areas of extreme temperature swings, both hot and cold. Faux wood is the ideal choice for places with high moisture. These places, such as bathrooms and kitchens, are ideal places to add faux wood blinds. Mainly due to the fact, that they do not warp as easily as natural wood.
A
wood window blind
is a means of screening a window, achieving similar results to those obtained by fitting curtains or draperies. Wood blinds are normally the same width and height as the window itself, or they are slightly wider and taller. This depends on whether you want them installed inside or outside the windows revealing area. This purchase will be a matter of personal choice and décor desired.
Wood blinds have varying thermal effects. They can either block unwanted heat of the summer sun, or keep in the heat, in cold weather. In both of these applications of wood blinds, they also reduce light to varying degrees. This may depend solely on the design. Many kinds of wood blinds are manufactured to attempt the balance of privacy and shade. Wood blinds are made of a number of different materials, and they are manufactured in a number of different ways. This usually determines the name, by which the wood blind is commonly known.
Wood blinds greatly reduce the heat from sunlight. Ancient Egyptian pharaohs had their blinds made of reeds. In the Nineteenth century, the most inexpensive blinds were home-made roller blinds, and were made of cloth.
Wooden blinds can be manually drawn using a cord, a pull, or they are automated through motorization. Controls for motorized wooden blinds can come from a wall switch or a keypad, perhaps an easy to use remote control, or even a personal computer. This fully eliminates the need for cords, and allows instant control of otherwise inaccessible windows. Many of today's newly built modern homes are integrating blind control with these new solutions. This has provided us with ease of use, and is also effective to control the blinds operation, to considerably reduce heat loss during winter or heat effects during summer.
Wood blind's, manufactured of basswood, are an extremely popular choice in today's homes. Bass wood is a pinkish brown to a creamy white color, and the texture, being a light and soft material, is very easy to work with. This soft wood makes it best for blind makers to display their crafts of cutting and carving. It is an excellent material for wood blinds and decorative uses. Basswood blinds will surely give your home the ambiance of luxury that you desire.
Related Products
Post a Comment