Theme Bedroom Ideas
Oct 30 2012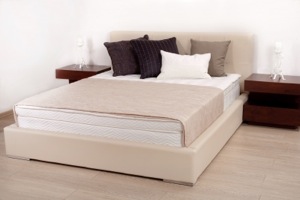 We all want to make our bedrooms special. They are supposed to be a relaxing getaway, somewhere we can go to feel really at peace. They can also be the place where our personalities really come out. After all, only you and maybe your partner will ever see the inside of your bedroom. Children's bedrooms are a wonderland of opportunity to be creative as well. Here are some great themed bedroom ideas that could work in your home:
Garden Time
– The garden is a relaxing and uplifting place. Full of flowers, trees, and grass, a garden makes you think of lazy summer days and vacations. Bring that feeling to you or your child's bedroom with these ideas.
1. Picket fence – a bed does not have to be boring. In a garden themed room, a white picket fence can be the perfect head and footboard. Paired with a light green comforter and delicate floral throw pillows, it is a little slice of heaven.
2. Cottage – a perfect bunk bed setup for a child's room is a cottage. The upper bunk is covered with a sloped roof in the 'attic' and the lower bunk is the main part of the house. A faux chimney slash bookshelf completes the look.
3. Bugs – Butterflies and ladybugs are always a hit with little girls. Paint the walls a pale green and buggy wall stickers can decorate everything. An oval headboard painted red with black spots makes for a cute ladybug addition. Decorative 3D butterflies are easy to make or buy and make great wall art.
4. Trellis – A trellis is not just for outside. Bring the outdoors in with a trellis over the doorway. Decorate with ribbon, greenery and faux flowers for a touch of nature.
5. Flowers – Do not think that flowers have to be cute or girly. Think big for a more unisex flair. Giant floral pattered wallpaper can be a great room accent. Black and white floral print is also a good idea.
6. Mural – You can even go all out and create or purchase a giant wall mural for your room. A garden, a forest, or just a landscape can bring the outdoors indoors.
7. Fairy – Lots of little girls love fairies. To bring this magical theme to the room, just add lots of pink to the walls, a few glittery accessories, and a butterfly or two. You can also hang a net canopy over the bed to make it feel like a secret hideaway.
8. Jungle – For little boys, a jungle theme might be just the ticket. With dark green walls and lots of animal prints, this room is easy to pull off. All you need now is stuffed animals and you are set. For younger children, there are plenty of cute animal wall stickers and décor.
Go Global
–You love to travel and visit all those exotic locales. You have toms of knickknacks you have brought home but you have no idea what to do with them. Why not create an exotic themed room. From Africa to Asia, these themed rooms will give you plenty of ideas.
1. Moroccan and Indian –With bright colors and bold decorations, this theme is one that will definitely stand out. Paint the walls a vivid shade, accessorize with hanging lamps, bold patterns, big rugs and lots of throw pillows. You can even add fabric to the ceiling to make it seem like you are living in a tent, or accentuate the arches in your room with white accent paint.
2. Egypt –Go Egyptian with desert colored walls and chaise lounge chairs. Animal prints and dark wood furniture help to pull it off.
3. Africa – Masks, dark colors, darker wood furniture, and lots of animal print brings together an African themed room. Try brightening it up with traditional woven material and large baskets that are great for showing off your collection.
4. Asia – Clean lines, simple décor and lots of black and white make Asian themed rooms easy to pull off. Add a dollop of red to bring color into the room and try adding some green in the form of a bonsai or other small plant.
Other Ideas
- There are so many more ideas for themes. Check some of these out.
1. Industrial –For a very masculine and modern theme, industrial is the way to go. Metal, exposed pipes and wiring, lots of natural wood and a plain background make the room feel like an extension of the workshop. Decorate with metal and glass furniture, and gears always make for cool wall art.
2. At the beach – To create a relaxing beach theme, sand colored paint and ocean blue accents are key. Add sea shells, beach art, lots of white furniture and a buoy or two to brighten things up. Wicker chairs are a fun addition.
3. Castle – Very prince and princess wants to live in a castle. For a boy's room, try dragons on the wall, a suit of armor, and a drawbridge for a bed. A round blue carpet under the bed can serve as a moat. For a girl's room, tall tower bookshelves and white horses complement a princess canopy over her bed. Lots of tiaras and frilly curtains complete the picture.
4. Theatre – For a room that feels like your very own theater, make the bed as simple as can be and the headboard padded. The curtains should be plush velvet and thick enough to keep out any light. A big screen television will serve for the stage and you are set.
5. Under the sea – Paint the walls blue and add a touch of white or yellow to the ceiling. The light can be sun shaped for a fun addition. Turtle and fish stickers swim the walls and the bed is a sunken ship full of toy treasure.
6. Rustic – Unfinished wooden furniture with natural lines, deer antlers and a heavy metal chandelier adds a rustic feel to any room. Paint the walls dark brown and add stones for extra appeal.
7. Safari – Animal prints and taxidermy make up the majority of this room. Painted with a khaki color and sporting heavy dark furniture; you will feel like you are on an adventure.
8. Racetrack – For a little boy, cars are always in style. A car shaped bed can be complemented with a black rug and white flag carpet and the walls can be a landscape of a racetrack roaring off into the distance.
9. Sports – Sport themed rooms are easy to do. A wall painted like a stadium full of people, their favorite team's mascot and colors, and their sports equipment and awards proudly displayed is all it takes to make a room any sports fan would be proud to have.
10. Wild West – With cowboy hats, a desert mural on the wall, and rope everywhere, any kid would feel at home. Rustic wood headboards and faux leather chairs, a rocking horse complete with saddle and chaps, and a stuffed cow or two to rope and yee ha!
11. Superhero – Making your child's room into a superhero theme is not hard. All you need to do is paint the walls the dominate color of the hero, add a dew big logos here and there, and accessories with the hero's weapons of choice. Skyscrapers on the walls and some action figures complete the picture.
These are just some of the great ideas for themed rooms for kids and adults. Anyone can create and enjoy a themed room. All it takes is a little time, effort and imagination.
Author Bio
Sara is an active nanny as well as an active freelance writer. She is a frequent contributor of
http://www.nannypro.com/
. Learn more about her
http://www.nannypro.com/blog/sara-dawkins/
.
Post a Comment