Q:
Do the motorized window blinds and shades have several positions to stop or is it just all the way down or all the way up?
A: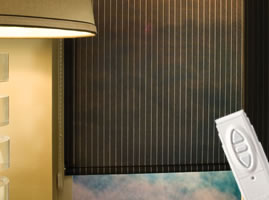 Motorized window blinds are operated with the use of a remote control. To operate the motorized blinds or shades simply hold the up or down button on the remote. The button can be released at any time to stop the operation of the motorized blinds, leaving the blinds or shades in a partially open position.

Remote controls for motorized blinds and shades vary from hand held remotes to battery operated wall switches or hard wired switches. Remote controls also come in single channel or multiple channel remotes. A single channel remote can operate more than one shade but will raise and lower all the shades at one time. A multiple channel remote control can operate a single shade or group of shades for each channel on the remote.

Motorized window blinds are perfect for home automation, child safety, or hard to reach windows. Buy your motorized blinds or shades today!
1
answers