Buy Solar Mesh Blinds - Clean Solar Mesh Blinds
Q:
What do I use to clean my solar mesh blinds?
A: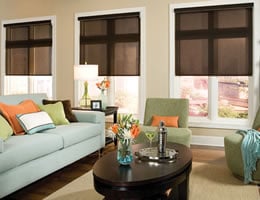 Most of our solar mesh blinds are made with synthetic materials that resist moisture. The screen fabric is made from a polyester/vinyl blend that is easy to clean. Just like any window shades, solar mesh blinds will get dusty over time. This dust can easily be removed by simply using a vacuum with the soft bristle attachment. For harder to clean stains, use water and a mild soap.

At Blinds Chalet we offer a wide selection of solar mesh blinds. Our mesh fabrics come in different colors, styles, and openness of the weave. The tighter the weave, the more light is blocked by the shades as well as the view. Solar mesh blinds are ideal for filtering uv rays, reducing glare and heat, while not blocking the view.
1
answers