Solar Screen Shades - Screen Shades - Roller Screen Shades
Q:
I am looking for a product that will allow light to enter the room and block some of the light. I have an office and I need to reduce the glare on my computer screen without blocking all the light. I am not worried about privacy. What type of window blinds do you offer?
A: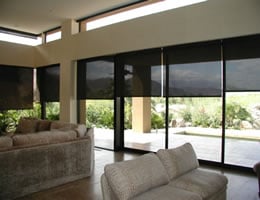 If you're in search for the perfect window treatments to block the harsh UV rays of the sun, solar screen shades from Blinds Chalet might just be the right choice for you.

It's always great to have a window that allows natural illumination to pour right in. Unfortunately, with the sunlight comes harmful UV rays that can cause a variety of skin conditions. Additionally, too much sun in the home can produce adverse effects on the inside temperature, increasing the need to lower the thermostat setting, which will undoubtedly raise your electric bills. As a solution, installing solar screen shades will allow you to easily control the amount of sunlight that comes into your house, creating a comfortable environment that everyone will enjoy.

Solar screen shades from Blinds Chalet also come in a variety of colors and options to fit your aesthetic. They boast only the highest quality, coming from manufacturers that produce window shades from the finest products that are environmentally-friendly and safe for anyone to use.
1
answers