6 Best Interior Design Apps
Jan 29 2014
If you hired an interior designer 15 to 20 years ago, you'd be presented with a story board with fabric swatches and decorating ideas. Those days are now a thing of the past thanks to laptops and tablets. Interior designers now present everything in digital form. The digital age also makes it possible for you to be your own designer. If you're interested in transforming one of your spaces, take a look at these six best interior design apps on the Android platform to help you out.
Design Dimensions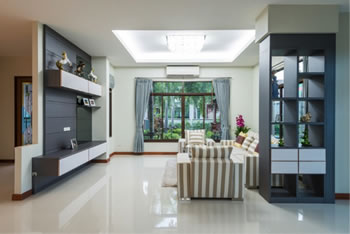 Before you buy any new furniture, make sure it fits in your space with the Design Dimensions app. You can create floor plans of rooms in your home and then move existing furniture around to see how it affects the flow of your space. It would be a sad day if you bought a new couch and later found out that it made your space feel small and cramped. The
Design Dimensions app
is pretty comprehensive—you can even mark the location of electrical outlets.
3D Interior Room Design
Have you ever wanted to see how a paint color would look with your new carpet or other features in a room, such as bricks, moldings, and fireplaces? The
3D Interior Room Design app
helps you do this. You can create a 3D animated room and then change the wall color and add all sorts of other features. This app doesn't feature furniture, but it is still a great way to design a space without wasting all your money on paint swatches. It's pretty entertaining, too, because you can add wall tattoos, doors, and even fireplaces.
Make Your Home
The Make Your Home app is packed with information about decorating and home improvement projects. It gives you the tools to decide what you should keep in your space and what should go when you're redesigning. This is a pretty popular app with thousands of users. Of course, you'll have the best experience using this app on a Lenovo tablet since the screen is larger than a typical smartphone so you can picture everything better.
Interior Design Gallery
If you just want to look at tons of professionally designed rooms for inspiration in your own space, the
Interior Design Gallery app
has a pretty comprehensive list. It will save you a lot of time from searching through individual webpages. Interior Design Gallery's picture library includes everything from living rooms and bedrooms to kitchens and bathrooms. Plus, there is more furniture and décor items than you could ever look at. As you're browsing through the pictures on this app, you can bookmark your favorites and then share them on your social networks.
Interior Design Lesson Videos
Aspiring interior designers will appreciate the
Interior Design Lesson Videos app
. It has several video courses that teach you tips on how to design and do projects yourself. It goes beyond the basics of matching colors and balancing spaces—this app provides ideas on how to decorate each space in your home to suit your personality. There are annoying ads, but you can get rid of them with an upgrade.
IKEA Catalogue
IKEA is a popular furniture store because it has thousands of products at affordable prices. The only catch is that you have to assemble everything yourself. Most of IKEA's products also feature space-saving designs and environmentally friendly products. If you're a fan of IKEA, you have to download the
IKEA Catalog app
. It will help you find products that are perfect for your space and show you what they look like up close. This will save you time once you get to the store. There are over 2,000 products currently listed on the app, so make sure you're connected to Wi-Fi before downloading this app—
These are some of the best interior design apps available on the Android network, but it's not a complete list. Are there any other apps that you like to use for interior design purposes? Do you make use of them? Share the ones you use in a comment below.
Author Bio: Joe Fortunato is a freelance writer from Tampa, Florida. He enjoys surfing the web on his
Lenovo tablet
, rooting for the Baltimore Orioles, and traveling the country in search of the best fishing. You can find Joe on Twitter at @joey_fort.
Post a Comment