Thinking Of Doing A Concrete Floor? Learn About The Grinding Process
Apr 15 2013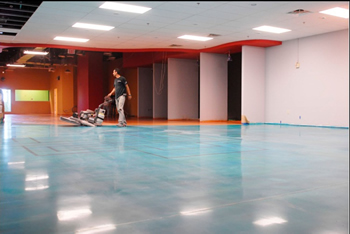 Concrete floor grinders are the tools which are used to smoothen and clean concrete surface. And they work just like the sandpaper works on wood. If you have ever seen any work on concrete polishing, this tool is what the contractors use to grind the floor. The discs used in concrete floor grinders are capable of removing up to 1/8 on top of the concrete floor. A Concrete Floor Grinder works by rotating discs, which is nothing but cutting stones, at the base of the unit. There are some models which rotate two disks simultaneously in opposite directions helping the operator to control the unit better.
Concrete floor grinder is normally powered by gas or propane, though there are some models which run on electricity directly. There are two types of concrete grinding - wet concrete grinding and dry concrete grinding. Accordingly, there are two types of concrete grinders - ones which work with wet grinding come with water tanks. The wet grinding method produces less dust while working as some of the dust is absorbed by the water and it leaves a slippery layer of powdered concrete. In addition to the floor grinders, handheld grinders are used for grinding corners and wall bottoms.
These grinders weigh between hundred to three hundred pounds and have a working range of up to 2 feet. The most important part of a concrete grinder is the grinding disk used to actually grind the concrete. There are all kinds of grinding discs available. They come in various widths as well as hardness. The diamond tipped grinding discs are the costliest of the lot.
Choosing a floor grinder depends on the job one wants to perform. For big floors in a commercial building, only very large units will suffice. If the working area involves many slabs, then an edging unit will also be required. Edging unit is a small hand held grinding machine and is very useful for tight corners and other areas not suitable for heavy machinery.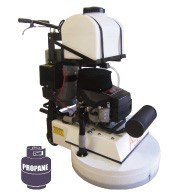 Most of the times, the concrete grinding is a onetime activity unless one is doing concrete polishing as a business. If one plans to grind the floor oneself, it is always better to get the floor grinding equipment for rent. You can search online to find contractors which rent out floor grinding equipment. The only consumable in floor grinding is the grinding disk. Ask the contractor how many would be required to get the job done.
There are options available if one is not interested in doing the work oneself. There are many companies out there which provide complete concrete floor polishing solutions. They will provide a complete end to end solution without worrying about the equipment, cleaning and other things. Before deciding to do the job all by oneself, it is advisable to give a call to one of these contractors and ask for a quote. The quotes are always free.
Whether you are renting out or planning to buy a concrete floor grinder, always choose a model which has a dust collection system. As mentioned earlier, grinding generates a lot of concrete dust. This dust contains silica and silica is dangerous for your health. The dust collection system also helps in cleaning afterwards.
Author Bio:-Christopher has a wide knowledge base about
concrete floor grinder
and floor maintenance. Through his write-ups he tries to share his acquaintance about concrete floor contractors with the world.
Want to participate in the Blinds Chalet community?
View details
Post a Comment