Q:
I'm going to order woven wood roman shades with movable liner, but how do you handle that set up, with 2 separate cords?
A: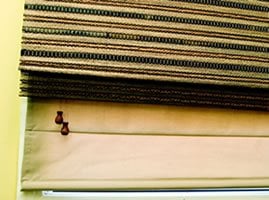 Bamboo Roman Shade with Movable Liner

Bamboo roman shades with a separate moveable liner has two sets of lift cords. One cord will raise and lower the woven wood roman shades and another cord on the opposite side of the shades will control the liner. Because the bamboo shades and the liner have their own lift cords they can be operated independently. This is a great feature as the liner can be raised during the daytime, letting filtered light pass through the bamboo roman shades.

Liners for bamboo shades come in either blackout or privacy fabrics. Blackout fabric liners will block any light from passing through while privacy liners are simply designed to provide privacy, letting some light in.

Because bamboo roman shades are made with woven wood fabric that does not provide complete privacy we recommend ordering liners with each shade. Watch for free liners with the purchase of our Tavarua bamboo shades.
1
answers