Two on One Headrail Blinds
Q:
Regarding the multiple blinds on one headrail, I would like to know if a faux wood blind of the following size would consist of 2 on 1 headrail or three on one headrail, 74" width x 78" length.
A: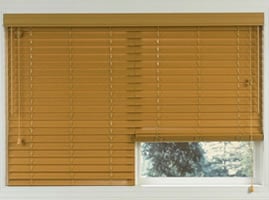 At 74" wide, most manufacturers are going to recommend that you break up the faux wood blinds into "2 blinds on 1 headrail" or 2 separate blinds. It is also possible to do a three on one headrail blind, but its not really necessary. It just depends on your window and how you would like the gaps to line up. Because there are slight gaps between each of the blinds, it is best to align the gaps with the mutins or divider rails of the window.

Larger window blinds become heavy and difficult to raise, especially with faux wood blinds. By splitting the blinds into two or three blinds on a common headrail, the blinds are easier to operate and they last longer. Each of the window blinds will come with their individual lift and tilt controls so each blinds can operate independently of the other.
1
answers