Q:
Question about edge binding. I want to order some exotic bamboo blinds and understand the benefits of the edge binding but do I need to have it as well as I don't see a good picture to see how it looks not on the edge but in the body of the blinds I want to order am 8 foot wide and am wondering how many strings are needed to lift the blind and how does it look and is it in the inside or outside of the blind.
A: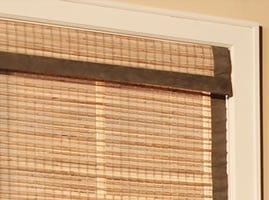 The edge binding wraps the outer edges of the blind and just helps the ends of the bamboo from fraying. There is an equal amount of fabric on both the front and back of the woven wood shades. When ordered with edge binding, the fabric edge binding is along the sides as well as the bottom of edges of the shades.

You don't have to have the edge binding but we do recommend it to help preserve the life and quality of the blind. It also gives it a nice completed look.

The lift cord on the bamboo blinds are usually on the right side of the blinds but can be adjusted to your choice and will consist of approximately 2-4 cords behind the shades. The number of cords depends on the width of the shades. Larger shades have more lift cords.
1
answers