Q:
We recently installed our blinds but can't release the cord and lower or raise the blinds. We've followed the instructions that came with the blinds. Is there anything we may be missing that could be done?
A:
With horizontal blinds such as wood blinds or faux wood blinds, when they are packaged and shipped, they will not lower. When new blinds arrive they will be raised so they are compressed for shipping. Occasionally the new window blinds can be pulled very tightly making it difficult to release them the first time.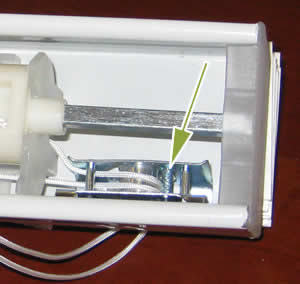 Cord Lock Mechanism

Releasing new blinds is easy if you know how to do it. It may take some help but can also be done by yourself. First, mount the new window blinds in the window. Next, push the bottom rail of the blinds upwards so it is tight against the top rail. While holding the bottom rail of the blinds tight against the top rail, pull the lift cord with the other hand at an angle to release the cord lock and lower the the blinds. Once the new blinds are lowered the first time the mechanism should not "freeze" again.

If you are still unable to get the new blinds to release, you can also release the mechanism manually. This can be done by using an object such as a screw driver and releasing the cord lock. Gently press the knurled rod in the cord lock mechanism down. This will release the cord lock mechanism and allow the new window blinds to be lowered.
1
answers