Q:
I am looking for bottom up or both up & down blinds for bay windows...suggestions?
A: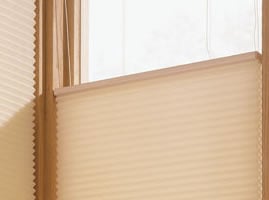 We carry many top down bottom up blinds which can be used for any window application including bay windows. One our our most popular top down bottom up shades are honeycomb cell shades. The honeycomb fabric traps air creating an insulating barrier for your windows. This helps lower your energy bills as a large portion of the heat loss occurs through the windows of a home.

Top down bottom up is an upgrade option for most cellular shades, pleated shades, roman shades and bamboo shades. The option can be selected during the design and order part of the process. We have a select few products that come standard with cordless top down bottom up option at no additional cost:

Measuring for bay window blinds can be difficult. Our simple trick to measuring your bay windows can make it easy.
1
answers