Q:
I am looking for bottom up or both up & down blinds for bay windows...suggestions?
A: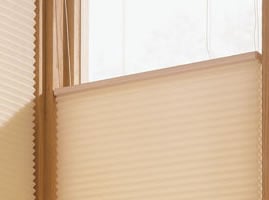 We carry many
top down bottom up blinds
which can be used for any window application including bay windows. One our our most popular top down bottom up shades are honeycomb cell shades. The honeycomb fabric traps air creating an insulating barrier for your windows. This helps lower your energy bills as a large portion of the heat loss occurs through the windows of a home.
Top down bottom up blinds off but up and down lift controls. Raise the shades with one lift cord as traditional blinds. Lower the blinds from the top down with a second cord. By lowering the window shades you will be able to see outside and light can enter the room without compromising privacy.
Measuring for bay window blinds
can be difficult. Our simple trick to measuring your bay windows can make it easy.
Bookmark/Share this page: