Q:
I have a question about your Signature Composite 2" Faux Wood Blinds. When selecting options, for tilter position I have the option of "Left" or "Right", and the hover information says that the tilt cord or wand can be positioned accordingly. Do these blinds come with a tilt cord or a tilt wand. We're hoping "wand" so that we don't have to try and find another company which makes blinds which match your quality and prices.
A: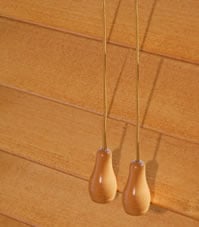 We offer both wand tilt controls as well as cord tilt controls but not every wood and faux wood blind offers both tilter controls. Some products such as our Signature Composite 2" Faux Wood Blinds only come with cord tilt controls and no option to adjust them. Other fauxwood blinds such as our Premier 2" faux wood blinds or our Aspen 2" faux wood blinds offer a choice between the two controls.

Why offer both types of tilt controls? Which is better? We highly recommend the cord tilt control over the wand control but offer both because some customers just prefer the cord tilt. There are multiple reasons for choosing the cord tilt control over the wand control.

First, is simply that the cord control is easier to use. A simple quick pull and the blinds are opened or closed in a fraction of a second. A wand tilt takes longer to operate and over time the wand tilts can become harder to twist the blinds open.

Second, the cord tilt mechanism tends to last longer than the wand tilter.

Third, because the cord tilt is easier to use, operators of the blind can close the slats tighter than wand tilt blinds.

The one disadvantage that many customers argue is that the cord tilt control looks like the lift control. This can easily be remedied by having the tilt and lift controls on opposite sides of the blinds. By default, our controls come standard that way. If the controls are on the same side, a gentle tug can let you know which is the lift or tilt control as the lift cord is harder to pull. This is still faster than twisting the wand tilt.

Hopefully this helps choosing your window blinds and which tilt control is right for you.
1
answers