Q:
I noticed that the woven wood patterns of the Tavarua Bamboo Drapery match the Tavarua Woven Wood Shades. I found a pattern or color I like that is not available in your bamboo draperies. Can I get any of the colors not listed in the other Tavarua products as a bamboo drapery?
A: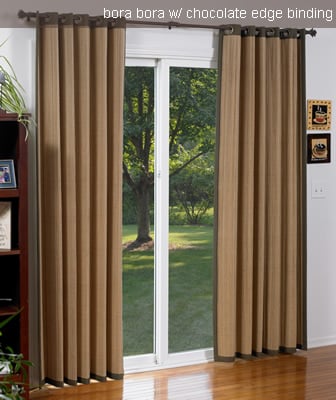 Bamboo Grommet Drapery

Yes, we can offer any of the colors or patterns of our Tavarua line of woven wood shades as a bamboo drapery. Online we carry our most popular colors and styles in our Tavarua grommet drapery panels but can also custom order just about any of the colors offered in any of our Tavarua woven wood shades. Call any of our customer service agents today for pricing and availability.

Our Tavarua bamboo drapes are a great alternative for large windows such as patio doors to the traditional vertical blinds. These woven wood curtains are made from an eco-friendly sustainable bamboo source and they look great too. Each of our Tavarua draperies are made from wild grown bamboo that is not treated with any pesticides or chemicals.

For complete privacy consider upgrading each bamboo grommet drape with a privacy or blackout liner. Because bamboo draperies are made from pieces of bamboo, grasses, rope, and other items woven together they will allow some light to pass though them. This will vary from pattern to pattern on the amount of privacy they provide. We offer a high quality cloth liner available in various fabric colors.

We also offer a full line of drapery hardware to mount the bamboo curtains. Choose any of our drapery rods that accent our bamboo drapery perfectly and our easy to install. Choose from our solid wrought iron rods or the telescoping contemporary metal rods.
1
answers