Q:
Are your aluminum blinds magnetic? Do you just push and pull them up and down with your hand?
A: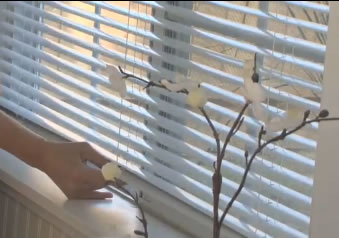 Cordless Mini Blinds
The
cordless mini blinds
operate both the tilt and the lift of the mini blinds without any dangling cords. Simply grasp the bottom rail of the aluminum blinds and twist to tilt open and close the slats. Push or pull the bottom rail up and down to raise and lower the blinds. This feature is excellent for pet and child safety.
We do not carry any
magnetic blinds
. All of our mini blinds attach with metal mounting brackets. Each bracket is secured by metal screws. Due to the design of the brackets the mini blinds can be mounted to dry wall, wood, cement, metal, or any material. When mounting the blinds to cement or metal special screws and/or anchors may be required. We include standard wood screws that work for most applications with each window blind purchased.
Bookmark/Share this page: